Semi-autobiographical psychological horror game Neverending Nightmares awakens on Kickstarter
From the creator of Retro/Grade. Demo available now.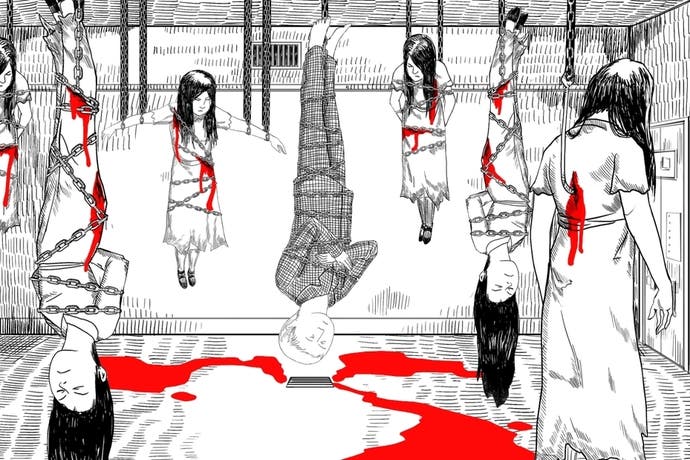 Last month I wrote about Retro/Grade creator Matt Gilgenbach's upcoming title, Neverending Nightmares, a psychological horror story based on the developer's battles with obsessive-compulsive disorder and depression. Now Gilgenbach has launched a Kickstarter to fund this ambitious, personal project about a man who wades through an endless onslught of nightmares, never being sure what's real and what's in his head.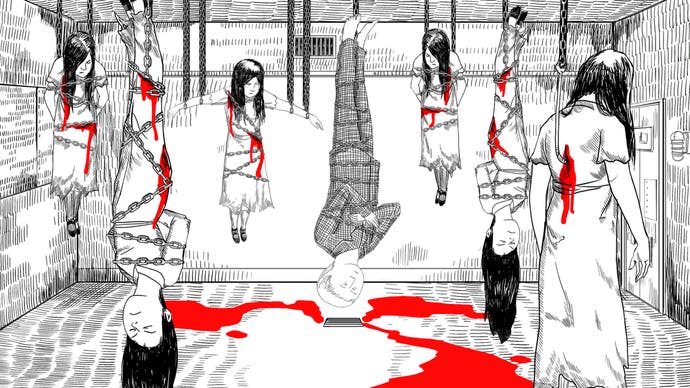 Intriguingly, the game will feature branching narratives based on your performance. If you fail a section you'll sometimes simply be set back a ways in the same nightmare, but sometimes you'll be deposited in an entirely new scenario. "Depending on what you do, when you wake up, it'll be into a different nightmare and the narrative will branch," Gilgenbach explained. "Most games' branches converge back on the same story line quickly. In Neverending Nightmares, we keep the narrative branches alive, and they lead to several completely different endings that dramatically change the reality the main character will be waking up into.
Gilgenbach noted on the Neverending Nightmares Kickstarter page that he was inspired by Silent Hill 2's storytelling, but wants to eschew its more conventional bits like a limited save system, inventory management, and puzzles. "In that series, all the horrific images have meaning and reveal more about the characters. The developers masterfully tell a story through the subtext and horrific incarnations of creatures that occupy the otherworld. This is one of the main goals of Neverending Nightmares," he explained. "Every aspect of the game reveals more about the psychological state of the main character, Adam, and ties back to the idea of creating the feelings I've struggled with as someone with mental illness."
Another inspiration Gilgenbach cited was Amnesia: The Dark Descent, with its minimalist controls and invulnerable enemies you must hide from. So far Neverending Nightmares' entire control scheme will consist of an analogue stick (or arrow keys) and a simple "interact" button, but Gilgenbach is considering adding a "run" function, though he doesn't want to ruin the atmosphere by letting players sprint around this haunted plane. Having played the pre-alpha demo, I hope he includes some way to speed up character movement, at least sometimes.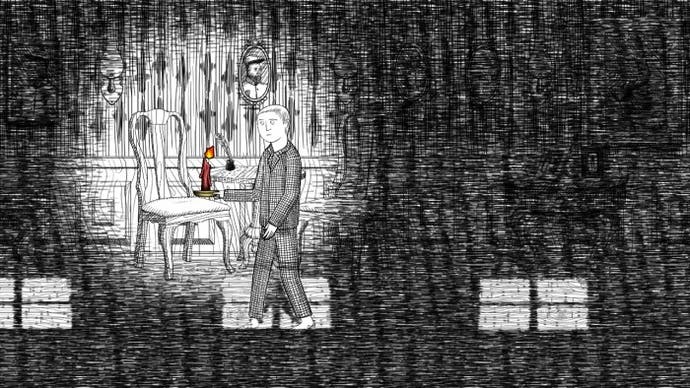 If the campaign is successful, Neverending Nightmares will launch as an Ouya-exclusive sometime around Q3 2014, but will migrate to PC, Mac, and Linux after six months. This is part of Ouya's "Free the Games" initiative, where the console manufacturer will match successful Kickstarter campaigns for Ouya-exclusives by 100 per cent. So if the game raises $125K, Ouya will double that and offer another $125K (though Ouya caps this offer at $250K).
The first 750 backers to donate $10 will receive a digital copy of the game upon release, though the price will raise to $15 after those are all snatched up; $25 pledges will guarantee a copy of the soundtrack and beta access in Q2 2014; while $35 comes with all of the above and early alpha access in Q1 2014.
So far Neverending Nightmares has raised $5,618 of its $99,000 goal with 33 days to go before its 29th September deadline.
To get a rough idea of how Neverending Nightmares will play, check out the demo on the Kickstarter page.