SCEI's Fumito Ueda
On The Last Guardian, ICO and more.
It's been two and a half years since Famitsu magazine dropped the first hints of Fumito Ueda's first PS3 game, and several months since it was revealed as The Last Guardian. Although there's been nothing to see so far but some impressive trailers, the hype is already huge - not surprising when you consider Ueda is the man behind cult classics ICO and Shadow of the Colossus.
Those hoping for more at this year's Tokyo Game Show may have been left disappointed to get a new video, but not much else in the way of gameplay explanation, let alone hands-on time. However Eurogamer did get the chance to sit down with Ueda, and his nice translator lady, to ask him about his games - past, present and future.
EurogamerWhy do you think ICO and Shadow of the Colossus are still so popular with hardcore gamers, all these years after their release?
Fumito Ueda
I don't really know myself. Actually, they were originally designed for the Japanese market but they spread to the US and Europe afterwards. That was fully analysed but even now, I don't really know what the reason was for the games spreading so much to other regions.
EurogamerDid you find that Europeans had more in common with Japanese gamers than you perhaps thought?
Fumito Ueda
Actually, I knew there were commonalities between Europe and Japan, so it wasn't a big surprise.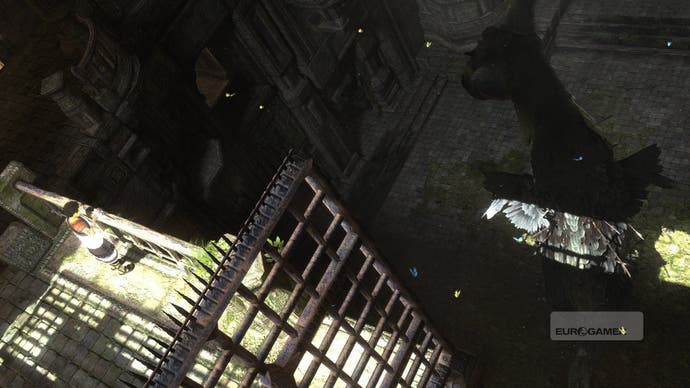 EurogamerDavid Cage has said he sees you as an "artist", but you've said you don't see it that way. Why do you think people say that about you?
Fumito Ueda
I majored in arts in college, so I'm very honoured to be described as an artist. Since I joined Sony I'm working for them as an employee, so I'm more orientated towards developing a product rather than artistic work.
EurogamerBut your games are not so obviously as commercial a product as, say, a sports game with a famous footballer on the cover. They're quite distinctive and different from most titles out there. So how do you strike that balance between producing artistic work and producing a commercially successful product?
Fumito Ueda
I don't really think about that kind of balance. Basically, I just try to create something that I would enjoy playing myself. I don't play football games myself, so maybe that's one reason.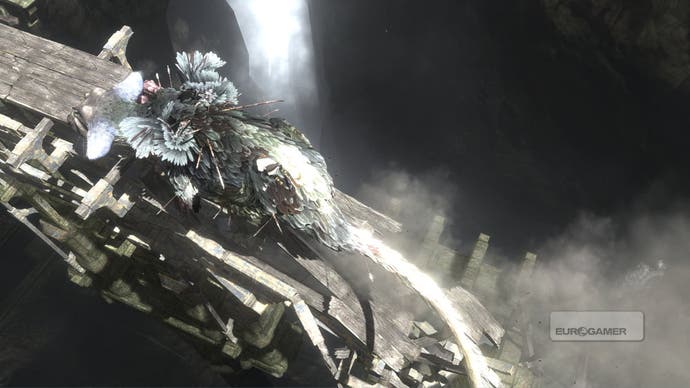 EurogamerRegarding the leak of the Last Guardian E3 trailer prior to Sony's conference - do you know where that leak came from?
Fumito Ueda
No, I don't know where it came from. Do you?
EurogamerIt wasn't me... Was the leak disappointing? Did it make you change your plans for revealing the game?
Fumito Ueda
Yes, it was slightly disappointing. Everybody was working so hard to make that trailer for E3, staying up the whole night - then the next day it was leaked, and everybody was so surprised.