Samsung's speedy 990 Pro 1TB SSD has dropped to its lowest-ever-price on Amazon
Get one of the fastest gaming SSDs around for under £90.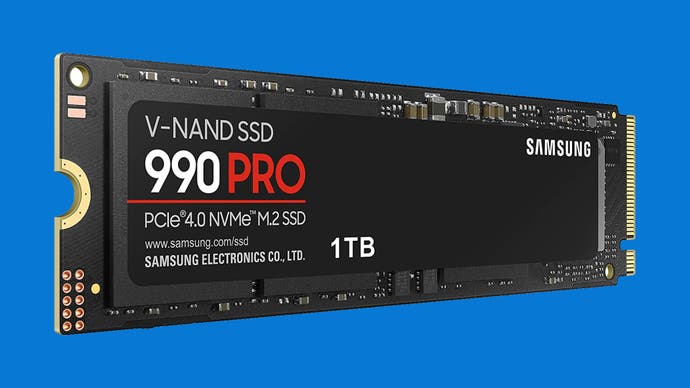 The fastest gaming SSD Digital Foundry has tested so far is the Samsung 990 Pro, and there's good news if you were eyeing it up for a storage upgrade to your PC or PS5 as it's now discounted on Amazon.
You can currently grab the 1TB version of the 990 Pro for £89 on Amazon UK, or for a similarly good $100 at Amazon US:
Samsung's 990 Pro has amazing speeds of 7450MB/s read and 6900MB/s write, as well as excellent random speeds of up to 1.4M IOPS reads and 1.55M IOPS writes which give it those rapid load times for games.
Those specs put it above the WD SN850x and Kingston Fury Renegade, helping it claim the crown in Digital Foundry's fastest SSD for gaming category.
It's also an amazing addition to a PS5 console, more than doubling your console's usable storage space as well as giving you those quick load times. Despite not having its own heatsink, the 990 Pro is still one of the best SSDs for PS5 and you can easily attach this tried-and-tested £8 heatsink so it's compatible with the console.
If you're looking for more discounts on PC upgrades, or a deal on console accessories or a new game, have a look at Amazon's Gaming Week sale which is taking place right now.
And to keep up-to-date on any future deals, follow the Jelly Deals Twitter as well as using the buttons underneath the article to follow the Deals topic so you don't miss out in the future.