Robot Unicorn Attack 2 double jumps onto iOS today
I wanna be with you and make believe with you.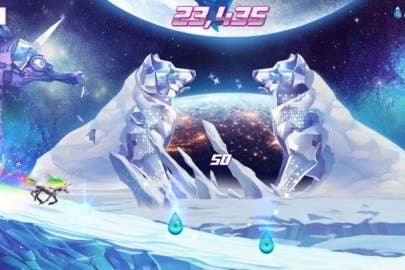 Monsters At my Condo developer PikPok and Adult Swim Games have released Robot Unicorn Attack 2, the sequel to what our Kieron Gillen called "undoubtedly the greatest game of all time which features a Robot Unicorn" (unless you count its Heavy Metal spin-off).
Available as a free app on iOS, Robot Unicorn Attack 2 sees everyone's favourite metallic steed brave hellish worlds of "Rainbows and Harmony" and "Ice and Wonder" as he/she runs for... why is the Robot Unicorn running again? Because it's free and it loves to run, I guess. It doesn't need a reason.
This sequel expands upon the original's template by adding new maneuvers like the "Rainbow Savior" and "Gallow's Gallop." It also introduces enemies, missions, and the option to customise your unicorn's appearance.
Also, you can now fly.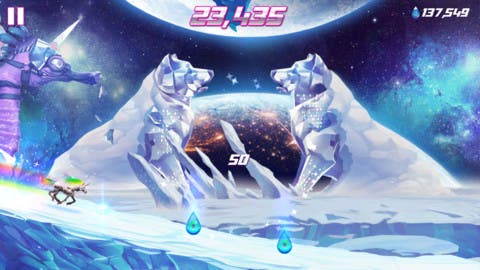 The downside to all this new content is that Erasure's seminal song "Always" - which was oh so integral to the original game - is not part of the default package and must be purchased separately for $0.99, which of course you'll do. "I will never be able to separate Always from Robot Unicorn Attack," wrote Gillen back in 2010. "I can't even imagine wanting to do such a thing. It'd be like decapitating the Mona Lisa. It merges with the sparkles of sound effects and the explosions of light and makes it complete. ALWAYS IT WANTS TO BE WITH YOU."
"To offer Robot Unicorn Attack 2 for free, we had to make the licensed music an in-app purchase," explained a pop-up message when you first hop into the game's options menu.
Other songs are available for purchase too by such bands as Blind Guardian, Slade, Limahl and Corey Hart, but we suspect people will stick with Always. It wants to be with you, after all.