Resident Evil 6 / Left 4 Dead 2 crossover announced
UPDATE: First footage invades.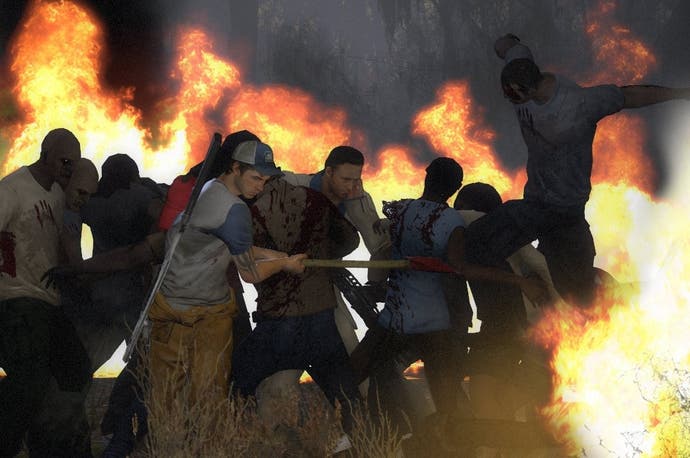 UPDATE: Capcom has revealed the first footage of the Resident Evil 6 and Left 4 Dead 2 crossover in action.
Survivors and Special Infected Zombies mode includes Coach, Nick, Ellis and Rochelle as playable characters, while The Witch and Mini Tank appear as enemies.
ORIGINAL STORY: Resident Evil 6's PC version due next week will feature a crossover with Valve's popular zombie shooter Left 4 Dead 2, Capcom has announced.
When players select the PC-exclusive The Mercenaries: No Mercy mode - available 5th April - they'll be able to select one of four members of Left 4 Dead 2's cast. This includes: Coach, Nick, Ellis and Rochelle. Each character will have their own unique customised weapon load-out. Additionally, two fan-favourite Left 4 Dead 2 enemy types - the Witch and the Mini Tank - will make cameo appearances in this mode, regardless of whether a player selects a Left 4 Dead 2 cast member.
This crossover works both ways as those with the PC version of Left 4 Dead 2 will see Resident Evil 6 monstrosities Lepotitsa, Napad and Ogroman invade their game as well.
"We're huge Resident Evil fans, so when the opportunity arose to work directly with Capcom to combine L4D2 and RE6, we jumped at it," said Valve's Chet Faliszek.
Resident Evil 6 producer Yoshiaki Hirabayashi added, "The Resident Evil 6 team really enjoyed working on this crossover, and we're confident that our fans will have a great time with it too!"