Reggie Fils-Aime retiring from Nintendo, will be replaced by Bowser
Leaving in April.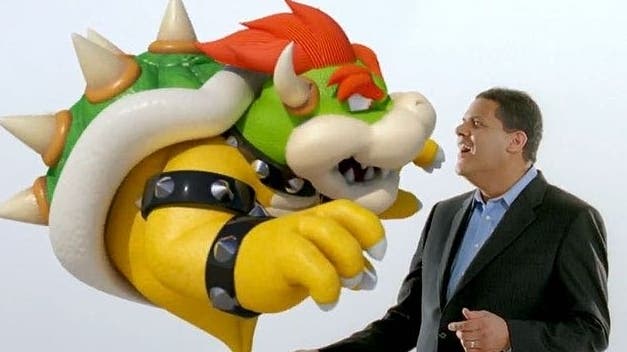 Nintendo of America president Reggie Fils-Aime is to retire after 15 years in the position, and the company's senior vice president of sales and marketing will step into the role. That man's name, dear reader, is Doug Bowser.
Fils-Aime joined Nintendo of America in 2003 as its executive vice president of sales and marketing, and was promoted to the role of president and COO in 2006. He's been a familiar face to Nintendo fans throughout his tenure, regularly appearing on-stage at E3 and, in later years, enjoying some light-hearted shenanigans (such as that time he became a puppet) in Nintendo Directs. He also got asked about a new F-Zero game a lot. Fils-Aime's last day is on April 15th, so there'll be a whip round and some cake in the kitchen at half four.
Discussing his decision to leave Nintendo, Fils-Aime said, "Nintendo owns a part of my heart forever, it's a part that is filled with gratitude - for the incredibly talented people I've worked with, for the opportunity to represent such a wonderful brand, and most of all, to feel like a member of the world's most positive and enduring gamer community. As I look forward to departing in both good health and good humour, this is not 'game over' for me, but instead 'leveling up' to more time with my wife, family and friends."
Reggie also elected to announce the news directly to fans in the short, and wonderfully heartfelt, video above. I genuinely got a bit of a lump in my throat.
Doug Bowser, who was vice president of global business planning at EA prior to joining Nintendo (and who probably gets very cross if you swing him around the room by his tail), commented, "It has been my great fortune to work with and be mentored by Reggie for four years at Nintendo of America, and rest assured, we will continue to build on his work to evolve and expand our brand, furthering Nintendo's global mission of creating smiles. There are millions more of those to come."