Raspberry Pi launches with licensed manufacturers
Demand cripples FTSE-listed manufacturer's website.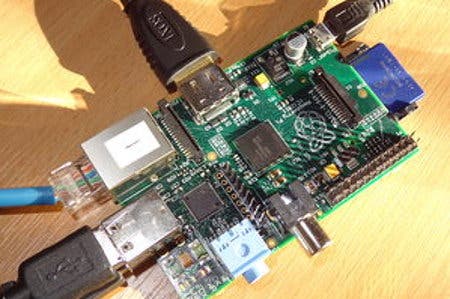 The Raspberry Pi has gone on sale and appears to have taken down the website of a major electronics manufacturer in the process.
An update on the Raspberry Pi website at 06:00 GMT this morning announced the Foundation's plans to partner with RS Components and Premier Farnell as licensed manufacturers.
"Although we are still waiting for units to arrive from China, you can start buying the Raspberry Pi today," it read.
"We have entered into licensed manufacture partnerships with two British companies, Premier Farnell and RS Components. They'll be manufacturing and distributing the devices on behalf of the Raspberry Pi Foundation, and handling the distribution of our first batches as they arrive in the country. The Foundation continues to make a small profit from each Raspberry Pi sold, which we'll be putting straight back into the charity.
"The involvement of RS Components and Premier Farnell means that we can build volume much, much faster than would have been possible on our own. We are no longer limited to batches of only 10k Raspberry Pis; the Raspberry Pi will now be being built to match demand."
Good news for the device's legion of eager supporters, perhaps not so good for the manufacturers. RS Components are only able to offer a registration of interest at present, while the website of Premier Farnell has been unavailable all morning, and remains so at the time of writing.
Due to demand, the first units to be produced will be the Model B version of the device, which offers additional USB capability and an Ethernet port. Further cost-reductions have also resulted in the Model A having it's RAM increased to 256MB - double the original design.
Eurogamer recently visited Foundation trustee and head of Frontier Developments David Braben to discuss the Raspberry Pi. Our feature was published yesterday, along with a video from EGTV which you can view below.