Football Manager 2006
Feed the addiction.
To paraphrase the great Bill Shankly, Football Manager is a simple game made complicated by people who should know better.
Ever since Sports Interactive's formative years, Football Manager's inherent simplicity has always been its irrepressible charm: pick a team, choose the tactics, watch the drama unfold, and then spend hours, weeks, months trying to find a successful formula to bring glory to your underachieving, overpaid slackers.
You'll scour the lower divisions, raid the overseas market, meddle with the starting eleven, experiment with youth prospects and spend an awful amount of time doing so.
But you know all of this - or at least you should do by now. Of course, in the intervening years you'll know that SI has gradually made this simple, fun process a little more complicated, fleshing out the influence of the media involvement, contract negotiations, inter-manager psychology, not to mention the role played by the back room staff, your reserve and youth team, and how you deal with injuries.
All of this makes it a breathtakingly involving, life-sapping journey into a fantasy football world that - once you get into it - becomes a desperately difficult addiction to remove yourself from. It also means the game itself has to have a pretty good, intuitive interface to cope with the myriad submenus, and as far as the PC/Mac versions are concerned, it's about as good as it can be. Controlled with a mouse, it's second nature within about five minutes, and feels every bit as intuitive as navigating around your average home PC.
Glumpad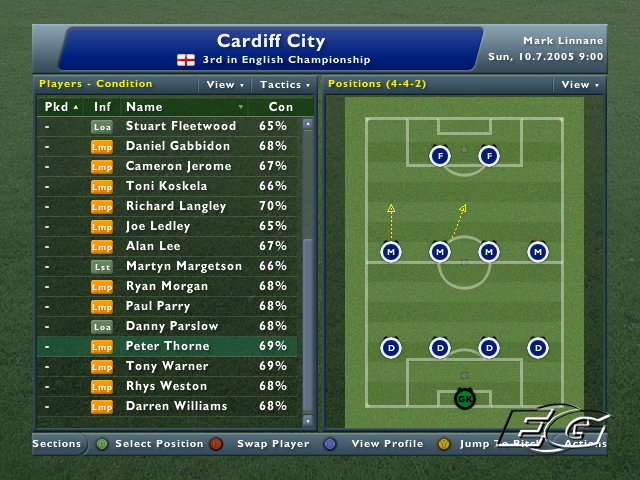 Translating all of this onto an Xbox 360 joypad, however, is a different story, and the first hurdle that even experienced old hands will have with FM 360 is working out how to navigate the rabbit warren of sub-menus that exist in the game. Although it's something you'll definitely get used to within an hour or six (if you're as ham-fisted as we are), there's a pretty steep learning curve to adapt to the new system.
Rather than simply port the game straight over and give you a cursor to guide around, SI has gone down the route of mapping basic common commands to all portions of the joypad - but it's a system that you'll flounder around haplessly with, unable to pull of some of the most basic commands. In its defence, SI could have gone down the road of doing a console version with all the dumbing down that this entails, but what you get here is the full FM experience - only one that demands a little patience with getting used to.
Generally, years of console use has meant that when using an Xbox, we're hard-wired to 'confirm' with the A button, or go back with the B or Y button, and so on, but FM's system disregards all of that to go for a system where there's never really a consistent way of simply confirming something - at least not consistent within the bounds of general game design that we're used to. For example, the left trigger takes you back to the previous page you were on, right takes you forward to one you may have flicked away from, and the two 'bumper' buttons bring up a variety of intricate sub-menus that tidy away goodness knows how many commands and even more sub-menus.
The face buttons are all entirely context sensitive, so if you're on the player profile page, for example, you have the choice to check out their country of origin, so pressing B (in your mind, the back button) actually takes you onto their national squad page - not something you really expect to flick to. Pressing X, meanwhile, brings up their transfer/contract status. Slightly bizarrely, nowhere on the profile page is their goals/appearances/average rating stats, unless, that is, you go to the full squad page and cycle between all the various (hugely detailed) information screens with the d-pad. The problem is, this isn't something that's exactly intuitive, and you can play the game on a basic level for hours without even knowing how to access some of the fairly basic screens - or rather, how to get the most out of them.
Come to my aid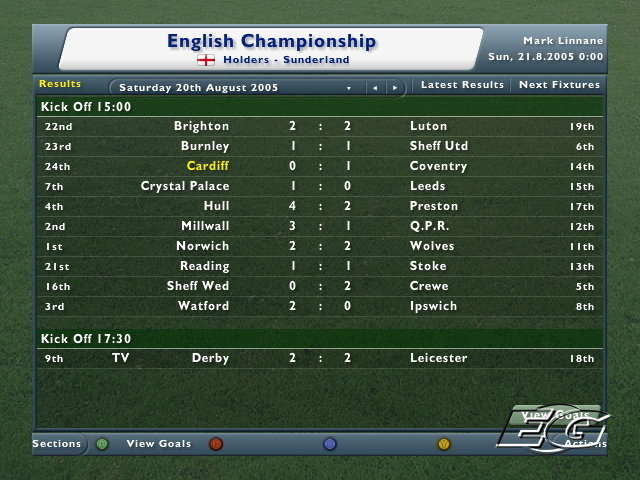 There is an in-game help system that gives plenty of in-depth info, but - to be honest - trying to use it with the joypad is a surprisingly fiddly business that doesn't really address the fact that you're having issues even finding basic things, making you wonder why the game doesn't include a control tutorial right from the word go - as that's the thing that's far more likely to hold you back, rather than, say, the finer points of contract negotiation. You can use a USB keyboard to assist with general text input (such as on player searches), but, my god, the sooner Microsoft does the decent thing and lets people use a mouse, the sooner we can get over these silly issues that would otherwise not even exist.
Once you've circumnavigated the numerous control issues that you almost certainly will experience to begin with, the game's every bit as good as the PC original. The game speed is definitely up to scratch, and match-result number crunching takes no more than about 15-20 seconds on most match days, and for most of the time the 360 does a fine job. We say 'most of the time' because when you're busy flicking between the numerous emails that come in every week, there's a strange tendency for inexplicable delays to occur as you try and cycle through each message. It's no biggie, but you have to wonder why on Earth it happens on such a powerful console, processing little more than text.
Obviously, one thing the 360 version offers over and above the original is a whole bunch of Achievements to go for - and in this case it's a whopping 50 (the maximum Microsoft allows, apparently). Some are basic (win a match, get a clean sheet, etc), but most are incredibly challenging indeed, offering awards for special feats such as double hat-tricks, buying a 30 million pound player, winning 20 cup competitions and completing 30 seasons. As unrealistic as these might be for casual players, they at least provide some sort of long-term challenge for the real obsessives. Gaining all 1000 points will be a massive achievement, for sure.
HD-error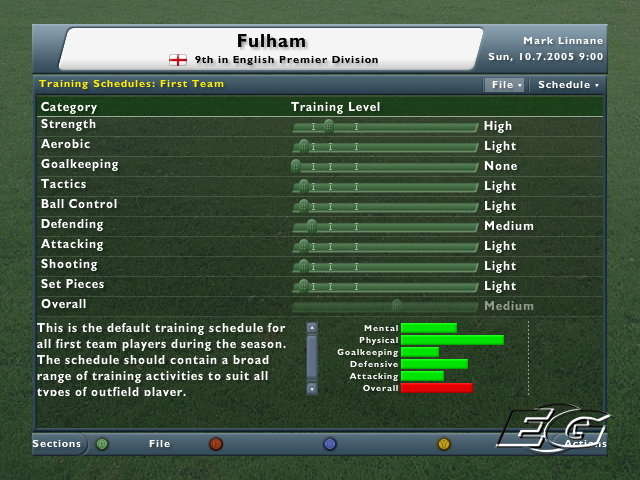 One disappointment, though, is that the 360 version doesn't take full advantage of the acres of space on the screen when playing it in high def. With widescreen a standard feature, it's strange that you still have to cycle through multiple pages somewhat arbitrarily. Basic things like player info profiles miss out all manner of pertinent information that we swear used to be standard years ago, but now gets placed elsewhere, on pages you're not necessarily going to visit. We realise that the main concern was to make sure the game was playable on the worst 14" portable TVs around, but it'd be even nicer to know that there's more of a benefit for playing on the best displays. Admittedly, the game does fit more information if you're in high def, but it doesn't go far enough.
Elsewhere, the game's Xbox Live features are certainly a welcome inclusion, offering basic league and cup match-ups that can be played ranked or unranked for up to 16 players. Playing identically to the single-player matches, the one major benefit is being able to shout abuse at your opposite number via the headphones during matches. Usefully, you can actually export your single-player team and use it for your online matches, which is bound to create all manner of interesting grudge match encounters once you've had a chance to really carve out a team in your own image. The one major drawback, as ever, is that you're forced to wait around quite a bit, with opponents able to make tactical tweaks and pause the action mid-flow. Apparently there is a time limit, though, so it shouldn't ever prove that irritating.
On the whole, we had a thoroughly engrossing time with Football Manager 2006. Yes, the interface does leave a lot to be desired, no it's not very intuitive at all, but we'd rather endure a steep learning curve than have to play a watered down version of the game that cuts corners and removes key features simply to feel more accessible. We'd definitely suggest that Sports Interactive has a rethink about the controls the next time this comes out on a console, but it's definitely a step in the right direction, and a massive improvement on its previous Xbox versions. Putting such moans to one side, the main thing to remind yourself is that - for the first time ever - you can play a no-compromise football management game in the comfort of your lounge. As long as you're prepared to spend some time grappling with the unfamiliar control system, Football Manager 2006 is likely to become welded to the innards of your 360 for months on end. To further paraphrase the words of Shanks, the genre has two great games: Football Manager 2006 on PC/Mac and Football Manager 2006 on Xbox 360. Fans of the beautiful game can pretty much discount everything else for the time being.