Rogue Spear : Black Thorn
Review - is Red Storm's latest addition to the Rainbow Six franchise an add-on too far or another choice morsel?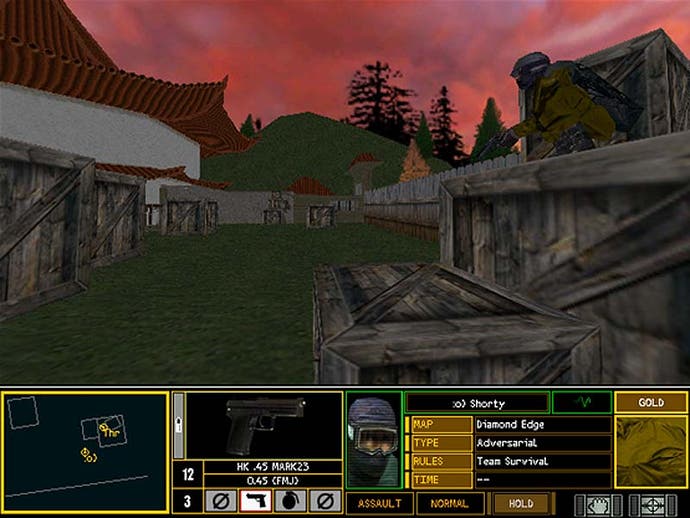 Don Your Balaclavas
Now is definitely not a good time to be a terrorist, but there's no doubt that Osama and friends' job would be made even trickier with our old pals Rainbow Six on our side. And so with deft timing the great granddaddy of tactical action games has returned to rid the world of AK-47 toting scum once again, in the latest expansion to the ever-present series of games based on the novels of Tom Clancy. Black Thorn is effectively another mission pack for Rainbow Six sequel Rogue Spear, and it's priced accordingly. Confusingly though Red Storm have decided to release it as a stand-alone product, as well as being able to tack it onto the side of Rogue Spear. So is it a mission pack, or simply a straight-to-budget title? Whatever, the game offers more of the same for fans of the series, with additions including ten single player missions, thirteen new weapons, a few new multiplayer maps and a new multiplayer mode to round off the decidedly slim package. The story is based around a terrorist group led by a psychotic ex-member of the Rainbow team, who has taken it upon himself to re-enact famous terrorist activities of the past in order to lure Rainbow to its demise. Cue a cheery jaunt across the world for our stealthy chums to pop a cap in the ass of a few hundred dim-witted foot soldiers, in settings ranging from cruise ships to foreign embassies, and middle eastern villages to suburban train stations.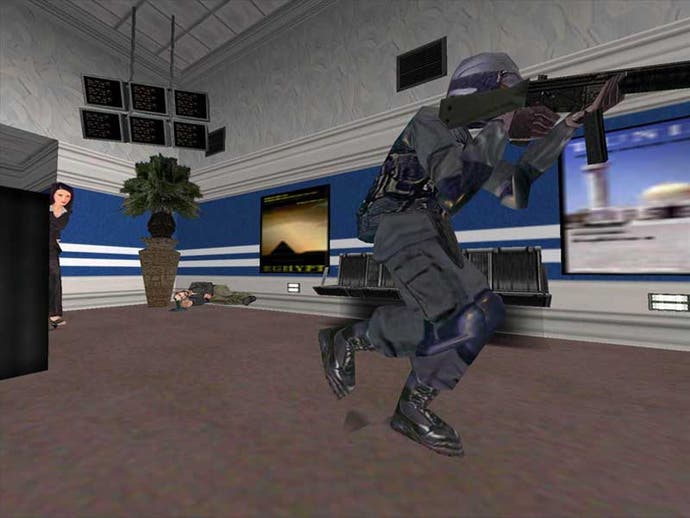 Tango's In Sight
The difficulty curve of the missions is a lot less forgiving than in previous outings. This is not only due to the shorter length of the game, as Red Storm have obviously presumed the player will know what they are up against this time round. Unfortunately newcomers to the series picking this up as a stand-alone product are going to be immediately daunted by the complexity they will be launched into. The proceedings seem to be slightly more action-oriented this time around though, which will no doubt please Counter-Strike veterans searching for something else to get their teeth into. Apart from the new missions and weapons, Black Thorn apparently also features a much-improved graphics engine compared to the original Rogue Spear, but we really didn't notice much in the way of enhancement. The maps maintain the excellent design and detail of the originals, yet still have the flimsy feel of a movie set, and the whole affair is starting to look very dated indeed. Even the excellent orchestral soundtrack and spot-music from the original is starting to get boring, as audibly the game remains unchanged. Thankfully there have been some improvements though. Either through sensible level design or improved pathfinding AI, your team mates no longer appear to be a hindrance to the smooth handling of your operations. Previously it was possible for a terrorist to stand and pick off your entire team one by one as they bumbled through a door to their death, but this problem seems to have been ironed out nicely. For those of you looking for more intelligent opposition, a new multiplayer mode called Lone Wolf is also included. This allows a single player to go up against a team of human-controlled terrorists, offering an interesting dynamic not seen elsewhere. It's just unfortunate that the team couldn't have offered more of these little innovations.
Conclusion
Black Thorn is a decent little expansion to keep the covert fetishists satiated for a while, but it certainly doesn't offer anything more than you would expect from a mission pack. What with the far more impressive looking Ghost Recon round the corner, hopefully this will be the last product Red Storm manage to squeeze out of the ageing Rainbow Six engine before things start to get embarrassing.
-