Putt-Putt sues Mojang over user-generated maps
"[It's] like suing Microsoft for what people do using Word."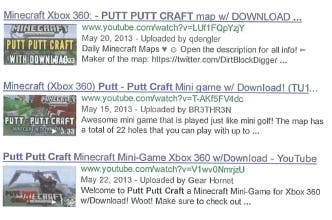 Putt-Putt, the entity behind the chain of miniature golf courses so prevalent that its name has practically become synonymous with the hobby, is threatening to sue Minecraft developer Mojang over user-generated levels that allegedly infringe upon the "Putt-Putt" name.
Minecraft creator Markus "Notch" Persson released the cease-and-desist letter on Twitter along with the musing, "Putt-Putt being silly."
"It has recently come to our attention that Mojang AB has been using, without authorization our famous Putt-Putt trademarks in connection with your business," said the letter. "We feel that Mojang AB's use of of the Putt-Putt name has benefited Mojang AB to the detriment of Putt-Putt."
It offered the following image as "proof" of the infringement: Clearly, these are user-generated levels that are in no way affiliated with Mojang. Still, the world of copyright infringement is a murky one indeed, as anyone who remembers the great LittleBigPlanet fiasco of 2008 can attest to where Sony suddenly, and without warning, removed tons of user-generated maps that played fan-service to other IPs.
To figure out where Mojang stood on all this, I reached out to its lawyer, Alex Chapman, at the law firm Sheridans. He offered this to say:
"I think there is clearly a misunderstanding here as to what Minecraft actually is. It's a game that, amongst other things, allows people to build things. Mojang doesn't control what users build and Mojang doesn't control the content of the videos users make. Suing Mojang for what people do using Minecraft is like suing Microsoft for what people do using Word."
Furthermore, Mojang's business developer Daniel Kaplan told EG, "Players are able to do amazing creative things in Minecraft in a similar fashion to artists doing whatever they want in PhotoShop. It is up to the end users to play/create in a responsible manner."