PUBG dips below one million daily PC players for first time in a year
The day Blops 4: Blackout beta began.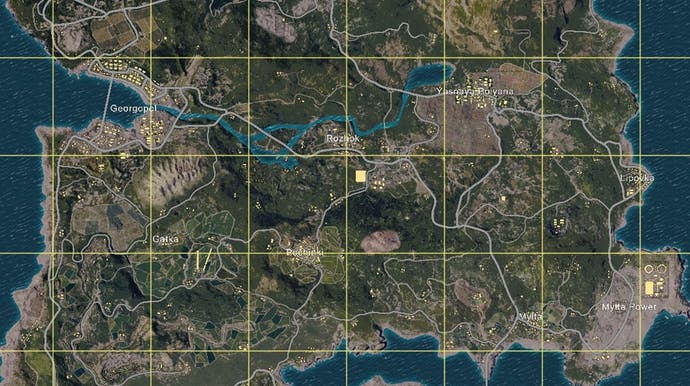 Yesterday marked the first time in a year PUBG did not hit a million daily players on PC, according to numbers service SteamDB.
Not-so-coincidentally, yesterday also marked the launch of Call of Duty Black Ops 4's very PUBG-like Blackout battle royale mode beta for PlayStation 4 pre-order customers.
To be fair to PUBG, its current player count (960,000 yesterday - just 40,000 shy of the one million mark). Dota 2 is the only other game on Steam to have ever cracked one million players in a day. But the battle royale king once pulled in a peak of 3.2 million players, back in January this year. Ever since then its high numbers have slumped.
This chart from SteamDB shows the game's daily players since it arrived on Steam Early Access in May 2017 (marked "A"). The blip marked "B" is the day the game left the Early Access part of the store and then reappeared as a full release. "C" is when the game's mobile apps were released. Things do appear to be levelling out, at least: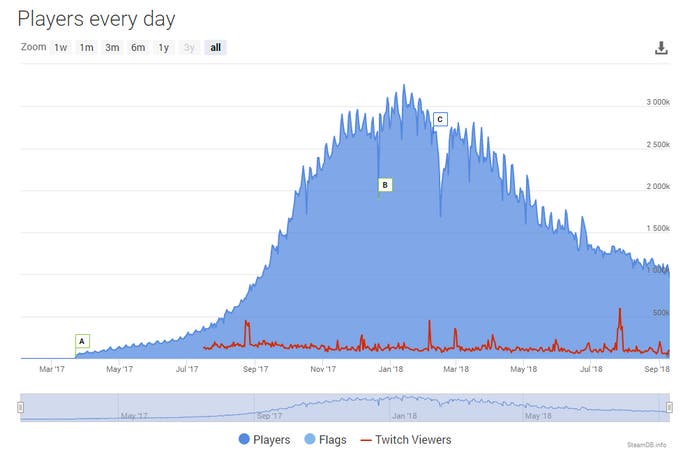 So what's behind the fall? It's easy to point to free-to-download battle royale rival Fortnite, which has dominated headlines with eye-catching updates, new features and plenty of celebrity fans. There's a feeling PUBG can't keep up with the continual supply of content Fortnite provides, and it has gotten bogged down with all of its bugs.
Last month, PUBG announced a major campaign to straighten out the game's issues. "It's time to fix PUBG," developer Bluehole said, as it announced plans to improve communication and speed up progress in vital areas such as server performance and cheat detection.
Yesterday, a huge datamine uncovered a glimpse at the game's upcoming snow map, set to debut later this year.
Can PUBG grow its userbase again? Or perhaps a million players - if things do level out around here - will simply remain a very, very good average to have.