Pro Evolution Soccer 2015 review
Don't cry for me Di Maria.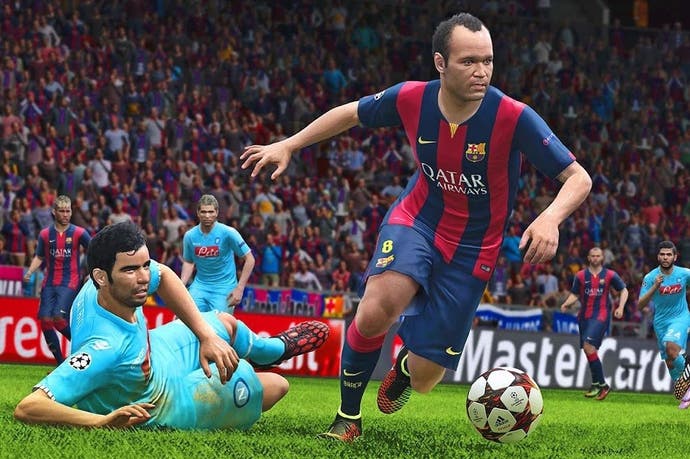 PES 2015 benefits from a clear idea of where it's headed, and a stronger grasp of real football than this year's FIFA.
PES 2015's debut on the new generation of hardware serves as the perfect antidote to fans who lost faith during the previous console switchover. The FIFA juggernaut has rolled on well beyond the point Konami's series could last count itself holder of virtual football's Ballon d'Or. Dedicated players have converted, and an entire generation has moved on to EA Sports' series. PES 2015, however, storms onto the pitch, flag in tow, ready to go full Souness on its major rival.
It's important to start by dispelling the myth that PES offers arcade action as opposed to FIFA's simulation. The latter's superior presentation - amplified by this year's official Barclays Premier League overlay and accurate facial scans - is often used to justify the notion that FIFA plays a realistic game of football. Head onto the pitch and this isn't quite true. EA Sports' latest offering is hamstrung with constant goals from kick-off, ridiculous penalty calls and shifts of momentum which make Sergio Aguero's last-ditch title winner against QPR appear tame.
Perhaps its the increasing significance of Ultimate Team that accounts for FIFA's increasing flair for dramatics, but even as it introduces its own myClub, PES 2015 is a pleasant reminder there's an actual sport to be enjoyed. Subtle physicality is at the heart of a system which rewards those who battle to the very last, whether you're approaching goal or desperately trying to protect your own.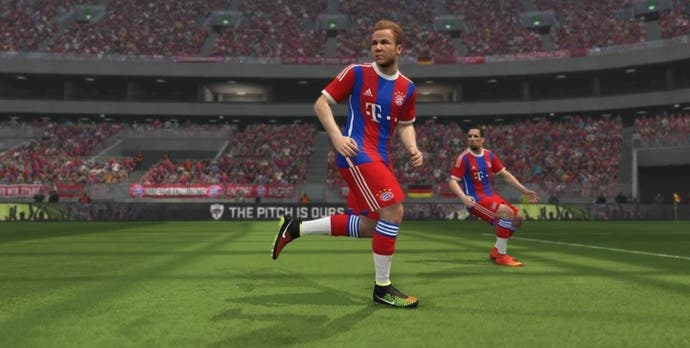 Going shoulder to shoulder is responsive and forces the AI into second-guessing whether they can retain possession. Some will use Olympic strength to power through, others will slow up, change direction and look for a pass. Reactionary intelligence - the kind which actively seeks solutions to problems you inflict - is at the core of everything PES 2015 gets right.
This is most apparent when momentum shifts appear during matches. Take, for example, a two-legged Spanish cup tie, in which my second division Real Betis side was forced to deal with multiple strains of strategy from La Liga's Rayo Vallecano. Home advantage is applicable - the developer emphasises the importance of drawing on crowd support during loading screens - meaning tactics are adjusted accordingly.
Vallecano dominated possession during the opening tie, but were unable to inject tempo and suffered on the counter. Once I notched the first goal with my Master League default side (love you Castolis), Vallecano noticeably upped the ante and looked to move the ball forward with pace, throwing additional numbers into attack to try and find an equaliser. This left the top division side exposed at the back and eventually ruing a 3-0 upset to my selection consisting of a P.E. teacher, haberdasher and LARP enthusiast.
During the return leg, Vallecano filtered play through one-time Manchester United prospect Manucho. The striker dropped deep to hold up possession and picked out wingers whose attacking impetus had noticeably increased alongside the urgency of needing a result. With the score standing 4-1 on aggregate, Vallecano flooded long balls into the box as if under order from the pre-2014 Sam Allardyce. A quick introduction of my fatigued captain - a behemoth in the air - tightened things up to see out the win.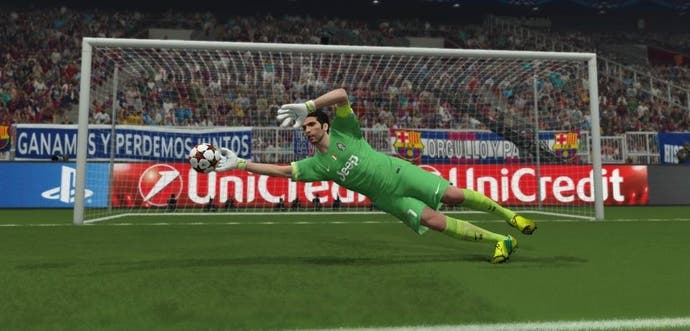 To contrast this, my next cup fixture against Real Sociedad saw the Basque side score in the opening minutes and admirably retain possession without exerting themselves. Nicking the ball away, just for a second, became a task in itself as my rivals actively searched for space. A change in formation upped competitiveness somewhat, before a sucker punch goal left my team in tatters.
Nothing gung-ho or curious occurred, and there was no Roy of the Rovers finish that riddled the match with chronic implausibility. The better team emerged victorious and provided an education in the process. No injustice, no tears, no controllers hurtling across the room to amplify the pain. The post-match stats, grim reading as they were, taught a lesson that would help a second-leg comeback ensue.
PES 2015's ability to prioritise the fundamentals of football ahead of a constant stream of blockbuster moments makes the title far less alienating than its competitor. Victories are well-earned and rewarding due to gameplay that is sharp, responsive and finely balanced.
Care needs to be taken with each pass and opening your body up to receive the ball remains key to creating space. Manual control is easily applied, although sloppiness with or without will be punished. Extended online play could show through balls to be too effective - these are excellent at splitting the defence - but even assisted attempts are easy to overcook or misdirect.
The AI works hard to retain your shape and diligently ensures unnecessary gaps aren't revealed. Mistimed lunges for the ball aren't fatally exposed with a chasm of space opening in front of goal, as your controlled player turns to continue the fight while colleagues burst to neutralise the threat. Such a forward-thinking system allows full commitment to one-on-one clashes without leaving a lack of structure around the action's epicentre.
This feeling of intelligent reinforcement allows the basics of football to take on greater prominence. A fluid formation system enables different setups for when you're attacking and defending, meaning offensive midfielders can slot into deep-lying roles if you're under pressure or full-backs can aid sweeping moves when gaining momentum in the opposition's half.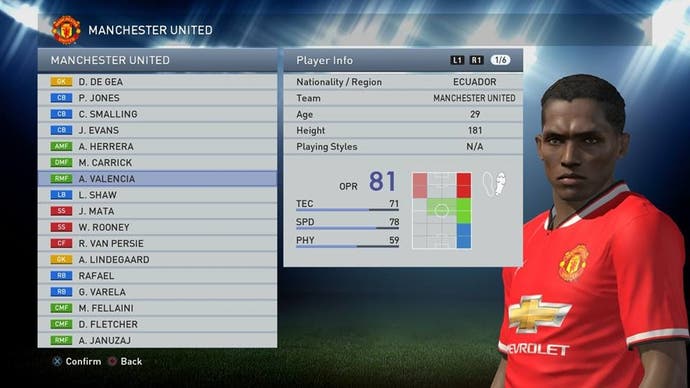 Players make intelligent runs into space, but importantly, these aren't just the overzealous forays forward. Tom Cleverley enthusiasts will be impressed to see sideways options appear and defenders work hard to back up your play. The old "backwards to go forwards" adage comes into full effect as it's made clear you won't survive simply by holding sprint and breaking between the lines with a change of direction.
That's not to say world-class players won't have an impact. Cristiano Ronaldo darts through challenges with the ball glued to his foot, while cutting inside and launching a curled strike with Arjen Robben is often a precursor to celebration. Attempts at goal are still lacking the satisfying thud of FIFA 15, but are met with a fulfilling contextual response from the crowd whether you slam one into top corner or whisk a pot-shot wide.
Goalkeepers, too, are excellent at producing an emotional response. I can't remember a game in which I have felt so secure with the computer-controlled stoppers between the sticks. Not because they are superhuman, but because even low-rated keepers are decisive. They will gather simple crosses, punch away from danger when placed under physical pressure and get their body behind the ball to limit any spillages inspired by everybody's favourite on-pitch urinator, Fabian Barthez.
Similar to the effectiveness of through balls, goalkeepers will likely receive a more thorough examination when online play is established. This wasn't available in time for review - disappointingly so considering myClub's opening attempt to dislodge Ultimate Team - but local multiplayer contests excel through the mechanics of a title which has been constructed to limit vexation and promote "good football."
The PES world flaunts added authenticity this year, despite the almost charming aesthetic drawbacks many use to detract from the game. Some player representations are uncanny - just look at the ears on Luis Suarez - while others are unintentionally hilarious. Antonio Valencia's forehead, for example, is straight from the realms of Deep Space Nine.
Other areas of presentation are also executed well. Manchester United fans can eradicate memories of David Moyes (soon to be Louis van Gaal?) with a run through the officially licensed Champions League, while Spurs enthusiasts will take comfort from the Europa League's inclusion. The Asian Champions League, Copa Libertadores and Copa Sudamericana are replicated alongside newly added second divisions from England, Italy and Spain. All of this is encased with a limited soundtrack featuring catchy yet admittedly deplorable songs from the likes of Ellie Goulding, Bastille and Imagine Dragons.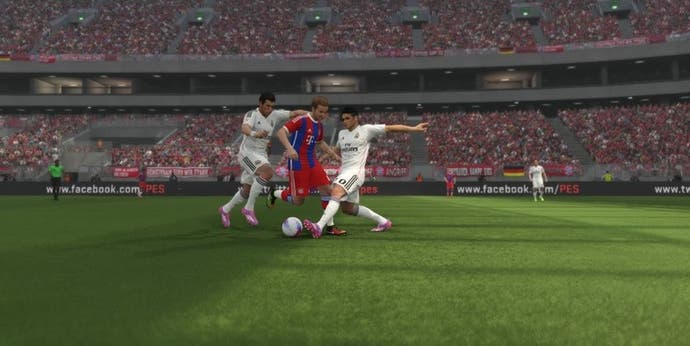 At this point, there's only one question left to answer: is PES 2015 a better game than FIFA 15? In terms of replicating the balance of real football, the answer is an emphatic yes.
The latter's constant need for the spectacular is overpowered by a formula which rewards the subtle tweaks and tactical variation which fuels the real-life sport. PES 2015 actually benefits from arriving two months later than its adversary, which has displayed its weaknesses over extended play since release.
It's perhaps ironic that, in the year PES introduces micro-transaction monetisation, the developer has reminded everyone that football - virtual or not - is meant to honour those who conglomerate the basics into a winning formula. Whether or not the desire to farm gamers' cash stumps the series' growth remains to be seen in the long-term, but PES Productions is currently sitting on a durable and resilient blueprint of how football should be played.
FIFA and PES seem to have swapped shirts, with neither catering to the original audience they once set out to attract. Based on this year's offerings, though, it's PES that has the clearer direction of where it's headed. Perhaps most tellingly of all, PES 2015 is more satisfying in defeat than FIFA 15 is in victory.