Konami unveils PES 2015 for PS4 and Xbox One
MyClub has micro-transactions. First screenshots released.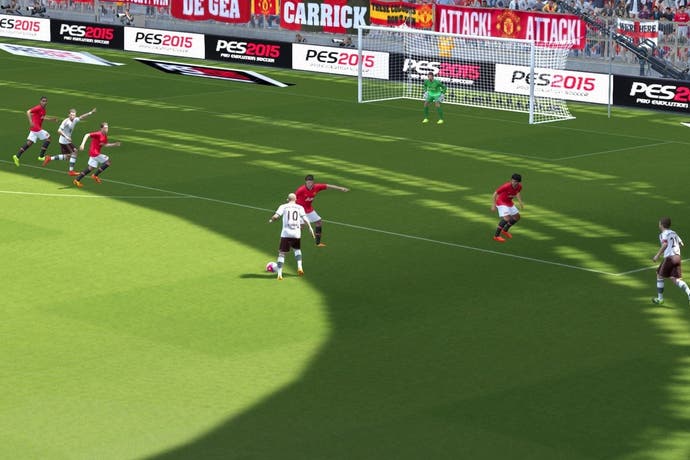 PES 2015 launches on PlayStation 4, Xbox One and "additional formats" during the autumn and winter of 2014, Konami has announced.
The mantra this time around is "the pitch is ours". The game is a co-production between the main Tokyo-based PES Productions team and the recently-established Windsor-based team.
PES 2015 is the first game in the series for the PS4 and Xbox One and, according to Konami, the first full implementation of Kojima Productions' Fox engine in the PES franchise.
So, what was PES 2014, then? Konami said the Fox engine debuted in that game, which was built for PlayStation 3 and Xbox 360, "in embryonic form".
On to PES 2015. The shift to current gen means graphics for players, the crowd and stadiums are improved and benefit from a single source of real-time lightning, Konami said, so you see see the changing light throughout the course of a match. PES 2015 includes over 1000 players.
Now here's an interesting one. MyClub represents an "extensive" overhaul of Master League Online, and allows players and managers to be added using accumulated GP or via micro-transactions, which means spending real-world cash. This extends to offline play, Konami said.
In short, it means you can buy virtual players with real money. Unlike FIFA Ultimate Team, which sells players in packs of virtual cards, PES 2015's MyClub lets you buy players directly.
Like FIFA, though, PES 2015 includes weekly data updates that will adjust transfers and team lineups as they happen in the real world. Player data will also be updated based on performances each week. All this is applied to online modes and is optional within single-player.
And here's a nice idea: PES 2015 has adaptable match environments. You can tailor your stadium to suit your needs. So if your opponent prefers to play a passing game you can tell your groundsman not to cut the grass so short. Or you can have it watered to speed up your passing.
First screenshots are below.