Assassin's Creed: Unity launch beats Black Flag's in UK chart
Halo: The Master Chief Collection in at three.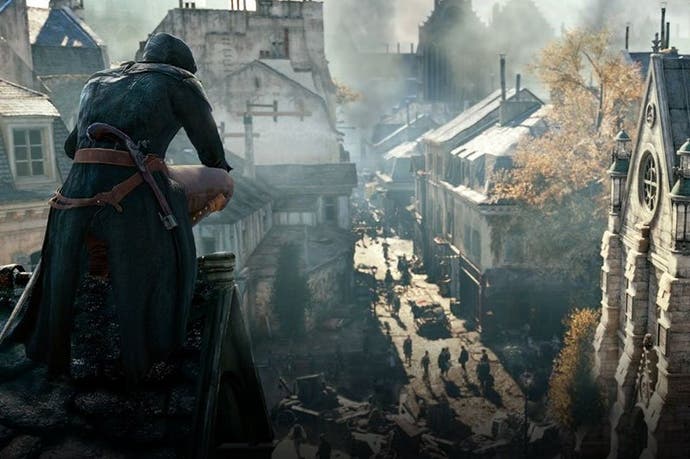 Ubisoft's Assassin's Creed: Unity has entered the UK sales chart in second place.
Activision's first-person shooter Call of Duty: Advanced Warfare held on to the top spot despite a 77 per cent fall in sales, according to official figures from Chart-Track. Unity missed out by 16,000 sales.
However, it seems Unity has done well. The PC, PlayStation 4 and Xbox One game outsold the launch of last year's game, Assassin's Creed: 4: Black Flag, which originally debuted on PlayStation 3 and Xbox 360 to a significantly higher install base.
Chart-Track said 52 per cent of Unity's sales were on PS4, with Xbox One taking 46 per cent and PC two per cent. It should be noted that Chart-Track does not keep tabs on download sales.
This year, PS3 and Xbox 360 got a separate Assassin's Creed game, titled Rogue. That entered the UK chart in sixth place. Combined sales of Unity and Rogue would have outsold Call of Duty: Advanced Warfare this week.
Meanwhile, 343's first-person shooter Halo: The Master Chief Collection enters the UK chart in third place. It's the biggest launch for a Microsoft-published Xbox One title and the seventh biggest by any publisher.
LEGO Batman: Beyond Gotham is fifth. Lego Batman 2 managed top spot when it launched in 2012. PES 2015 is eighth and World of Warcraft expansion Warlords of Draenor debuts at nine.
The release of the Vita version of Minecraft: PlayStation Edition boosted sales of the game by 79 per cent. Surprisingly, the Vita release is the biggest Minecraft launch on a PlayStation console, outselling both PS3 and PS4's debuts. It's the third-biggest debut ever on Vita, behind only the console's launch titles Uncharted: Golden Abyss and FIFA Football.
Here's the top 10:
Call of Duty: Advanced Warfare
Assassin's Creed: Unity
Halo: The Master Chief Collection
FIFA 15
Lego Batman 3: Beyond Gotham
Assassin's Creed: Rogue
Minecraft: Playstation Edition
Pro Evolution Soccer 2015
World of Warcraft; Warlords of Draenor
Destiny