Pokémon Sword is the biggest single-format release this year
Second biggest UK Pokémon launch ever.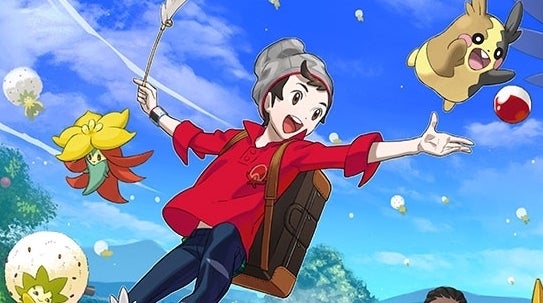 Nintendo Switch exclusives Pokémon Sword and Shield are a monster sales success in the UK.
On its own, the game's Sword version topped the boxed game chart this week - beating EA's big new release Star Wars Jedi: Fallen Order into second place.
The game's Shield version came in third, while a Dual Edition featuring both versions entered the chart in seventh.
Pokémon Sword is the biggest platform exclusive of 2019, even without the Shield and Dual Pack versions. That means it beat fellow Nintendo exclusives such as Luigi's Mansion 3, as well as PlayStation exclusives like Days Gone and Death Stranding and Xbox exclusives such as Gears 5 and Crackdown 3.
In fact, only two games sold more copies than Pokémon Sword this year: the multi-platform juggernauts that are COD and FIFA.
Together, Sword and Shield are the second biggest Pokémon launch in the UK - with sales up 50 per cent on last year's Pokémon Let's Go Pikachu and Eevee, and up around 45 per cent on Pokémon X and Y on 3DS.
The only Pokémon games Sword and Shield did not beat are Sun and Moon, which were released on 3DS later in that console's lifecycle and closer to the global craziness surrounding Pokémon Go. And, as ever, digital sales are not counted - which will also have contributed to Sword and Shield's total.
Star Wars Jedi: Fallen Order, meanwhile, launched with strong sales - even if they were down slightly on Star Wars: Battlefront 2. 66 per cent of copies were sold on PS4, the rest on Xbox One. (PC digital sales are not counted.)
The only other new release was Terminator Resistance, which entered the chart in 38th.
Counting each Pokémon version separately, Nintendo Switch exclusives now hold a majority of the chart's top 10:
Pokémon Sword
Star Wars Jedi: Fallen Order
Pokémon Shield
COD: Modern Warfare
FIFA 2020
Luigi's Mansion 3
Pokémon Sword and Shield: Dual Edition
Death Stranding
Mario Kart 8 Deluxe
Mario & Sonic at the Olympic Games Tokyo 2020