Play Surgeon Simulator 2013 with Oculus Rift and Razer Hydra at Rezzed
Patch to add support for peripherals due out soon.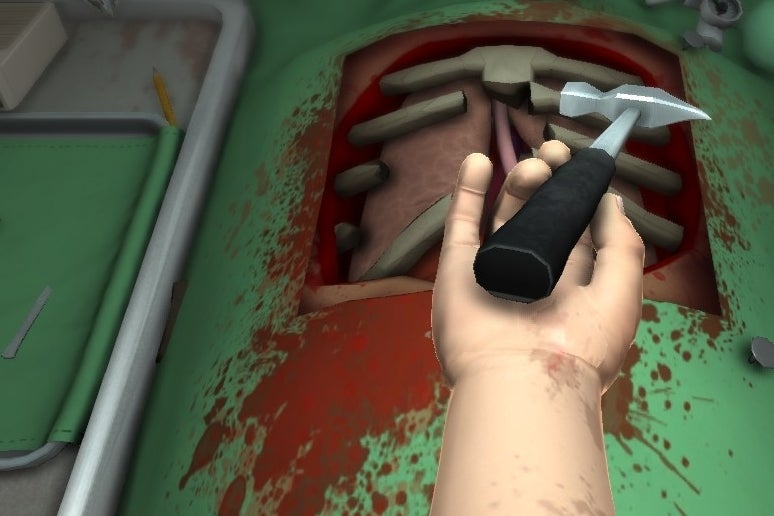 There are a ridiculous number of awesome games playable at Rezzed this coming weekend, but today we're also happy to reveal the presence of at least one ridiculous game.
Yes, as you may have guessed from the self-explanatory headline you clicked on to reach these words, Bossa Studios' wilfully peculiar Surgeon Simulator 2013 will be among the games on the show floor, with a twist: you'll be able to try it out for the first time with Oculus Rift and Razer Hydra hardware.
Surgeon Simulator gives you remote control of a pair of surgeon's arms, which players typically wave around haphazardly as they attempt to grip scalpels, needles and bone saws to undertake delicate operations.
Perhaps the extra level of immersion offered by the Oculus Rift virtual reality system and the Razer Hydra motion controller will be handy in reducing the mortality rate for amateur surgeons. Or perhaps they will send it the other way - it wouldn't be terribly surprising.
Either way, the prospect of playing what our reviewer Chris Donlan described as "an arm simulator" (before going on to make a John Wilkes Booth joke that one reader told us was "too soon") with cutting edge control technology should make for a hilarious experience for the player and a spectacle for anyone happening by.
Given the game itself, Bossa Studios probably wouldn't have it any other way.
Oculus and Hydra support will be offered to owners of the game in the near future, incidentally, but Rezzed will be a good opportunity to skip the waiting room.
Rezzed: The PC and Indie Games Show takes place this weekend, Saturday 22nd and Sunday 23rd June, at the NEC in Birmingham. Tickets are available at Rezzed.com priced £12 for one day and £20 for the weekend. As well as tons of playable games, we also have some amazing developer sessions featuring the likes of Obsidian and Creative Assembly, a packed indie arcade and loads more besides.
Check out Rezzed.com for all the details.
Full disclosure: Rezzed is organised by Gamer Network, which owns Eurogamer.net. Eurogamer staff help curate content and present sessions - including the above - but have nothing to do with the commercial side of the event. Check out our How We Work page for more information.