Pikmin 3 review
Before sunset.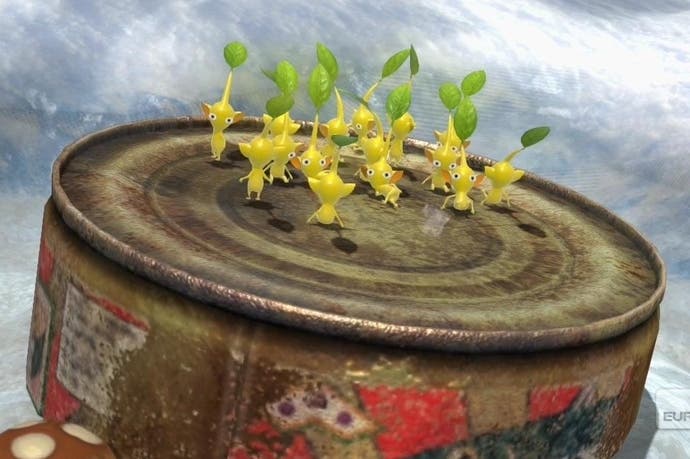 Pikmin 3 blends a child's perspective with a parent's anxiety - and it has some very over-powered macaroons.
Legend has it that the Pikmin series began life as its creator's response to starting a garden. In truth, though, it feels more like his response to starting a family. This is a game built of empathy and responsibility - a game about exploring a familiar world from an unfamiliar, childlike vantage point, and about trying to ensure that the equally childlike characters who assist you on the journey come to no harm along the way.
Pikmin's concerned with being a kid, then, but it's also concerned with being a parent. The colours are bright and the music's chirpy, yet when the hour grows late and your precious charges are far from home, the whole thing reveals itself as a dark fantasy of stress; of fretful absences and setting suns and of a seemingly breezy world that, upon closer inspection, is teeming with brisk malice.
A child's perspective and a parent's anxiety: previous Pikmin games have played with this tension, and you could argue over whether either quite mastered its balance. The first Pikmin had a strict time limit that gave Captain Olimar just 30 days to reclaim the scattered parts of his crashed spaceship with the assistance of those helpful vegetable people and their selection of special skills. The ensuing adventure was a game that you could play for seven hours straight and then lose.
That turned out to be a design quirk the sequel was eager to fix. In Pikmin 2, Olimar was given a far less pressing agenda: salvaging scrap to keep his company afloat. It was a livelihood rather than a life at stake, and Olimar had all the time in the world to achieve his objective. Pikmin 2 was a gentler and also more complex game, but one that had maybe sacrificed a little of its energising cruelty.
Pikmin 3 finally hits a sweet spot. Survival's back on the menu again, but now it's the survival of an entire planet. The people of Koppai have chewed through their homeworld's resources and have sent a three-man exploration team into outer space to search for more food. This team promptly crash-lands on the Pikmin planet and is scattered, as tradition dictates, across a selection of leafy maps, but they can then take as long as they want to complete their mission (and get their spaceship ready for interstellar travel again), provided they collect enough pieces of nice chunky fruit to keep them fed each night.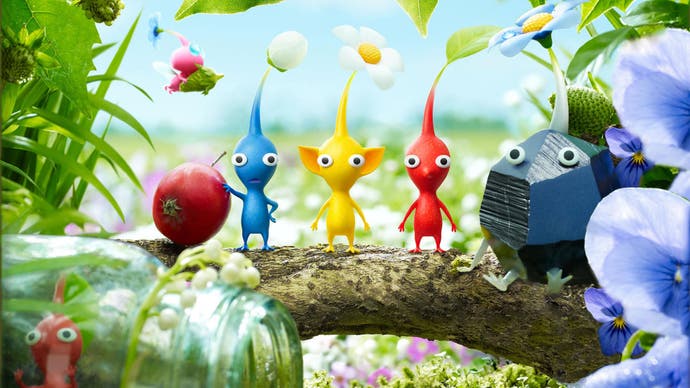 The game's ticking clock is wound by your day-to-day activities - the kind of neat balancing trick that seems to define this rather thoughtful sequel. Pikmin 3 isn't a grand reworking of the series and it doesn't pretend to be: this is still a strange action-strategy hybrid in which you spend each day marshalling squads of little Pikmin around bucolic levels. They still fight your battles and collect your doodads, and in return you still manage their headcount by harvesting corpses and flower pellets, and you do your best to get everybody back home before night falls. The new instalment's focus, though, lies with adjustments that allow you to control the pace of things without easing up on the long-term pressure that provides those wonderful moments of panic.
The new apple-a-day campaign structure is probably Pikmin 3's single biggest tweak to the basic formula, folding managed peril into a luxuriant kind of exploration game as you spread out across five varied environments, taking in tundras and rainforests, and dividing your time between gathering fruit and focusing on more specialist tasks, such as locating things to improve your ship and - for the first act - reclaiming your scattered crew.
Each day you'll build bridges, knock down walls, and find you're able to venture a little further. You'll also find that the fruit you're seeking can lurk in all manner of hard-to-reach parts of the environment, and that there's no greater delight than wrestling a bunch of grapes from an awkward ledge while a pack of deadly monsters graze obliviously nearby. (There's no greater delight, that is, until you get the grapes home and realise they make up two vials of precious juice when blended, giving you a buffer for that day and the day that follows in order to continue your work.)
Once you're powered up, you'll have three Pikmin commanders to shift between, embellishing the tactical puzzles Pikmin 2 sketched in as you loft troops across spars of rock that a single commander could never bridge by themselves, orchestrating complex manouevres involving pulleys and pressure plates. If you've got the kind of mind that likes reverse-engineering a tricky situation and breaking it down into a calm procession of simple tasks, you'll be in heaven.
Refined controls ensure that all the complexity stays with the planning rather than the implementation, too. Switching between commanders is handled with a button press, while your troops can split up, dodge and charge en masse with easy prompts. One or two of the game's more taxing moments see you using commanders as relays, passing Pikmin back and forth as you zero them in on their goal, but the camera - aided by thumbsticks and a smart lock-on - frames the action well without ever retreating to a loftier position far overhead. This is good because, were it to do so, animation quirks might be missed and that precious atmosphere of vulnerability could be compromised.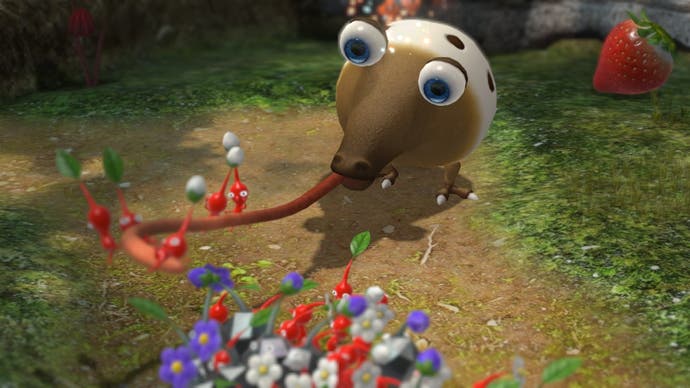 The increased commander headcount makes the spatial game more challenging, but you've also got new Pikmin types to deal with, as the campaign offers up rock Pikmin and winged Pikmin alongside a more traditional loadout of red, blue and yellow critters. Rock Pikmin can shatter crystal but are relatively clumsy when it comes to carrying stuff, while winged Pikmin zip over otherwise-impassable hurdles and attack airborne foes, yet tend to be fairly weak.
Tanks and air units! The game's new recruits lack the swagger and exotic sickliness of the additions brought by Pikmin 2 - both of whom are now relegated to bonus modes on this outing - but they still bring a distinct tactical thrill with them, opening up new options as you move across the maps and encouraging you - particularly in the case of the winged guys - to read the landscape in different ways.
Your fruit-grabbing agenda's simple enough, but enemies and environmental hurdles provide some teasing, often disturbing challenges. There's a little of Mario to the toy-chest construction of Pikmin 3's spacious levels, with their carefully-weighted handfuls of different options left permanently within reach. There's something of Zelda to the way that a simple muddle of gates and unbuilt bridges are combined in manners that lead to puzzlesome spatial knots designed to unravel with the most precise of tugs.
There's nothing else in the Nintendo universe that matches the horror of a giant worm emerging from the ground to decimate your forces, however, and nothing to match the shock of a crab boss dropping from the ceiling, or a seemingly innocuous weevil suddenly dowsing you in flames. The monsters are more vividly realised than ever, but the greatest sin in Pikmin remains unchanged. It's not cruelty so much as carelessness that's punished: that second on autopilot that leaves your troops drowning in a lake or caught on a spider's web.
Because your interactions are so channelled - Pikmin can be thrown against enemies to attack them, thrown at hurdles to activate or move them, and thrown at trophies to carry them home - it ultimately feels like no other strategy game. Given a handful of clearly defined units and a fairly tight unit cap, you're more like a mixologist than a general, heading to the base each morning and pouring the correct measures you'll require from a series of Pikmin optics. Topping up your troops can be just as important as how you then spill them out on the battlefield - another activity that the more relaxed time limit allows for with greater generosity.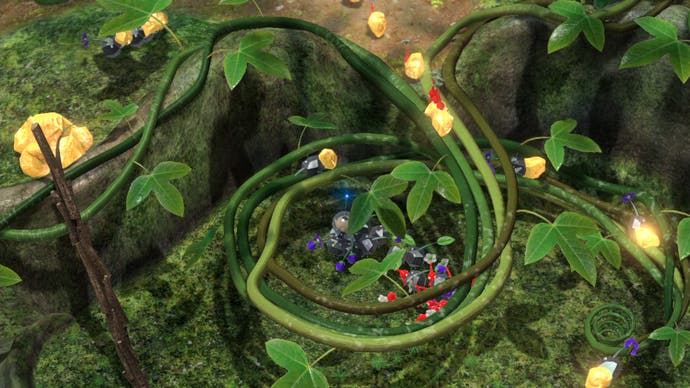 The purple and white pikmin aren't the only elements missing from the campaign. Pikmin 2 introduced glorious dungeon-diving sequences where limitations were placed on your Pikmin loadouts to make up for the removal of the ticking clock. These prolonged, intricate set-pieces are all but absent from Pikmin 3, save for a pace-changing episode in the game's second half. Fleeting glimpses of dungeon spirit, however, can be found in a series of brilliant optional missions designed for either one or two players and divided amongst treasure-collecting and battling.
These once again rein in your reserves of Pikmin and provide properly devious environments to explore, and they're a lovely addition when nestled in alongside Bingo Battle mode - competitive multiplayer skirmishing that encourages you to harvest certain items to defeat your rival, and which might well be the only time in video game history that a macaroon has been over-powered.
Both of these optional asides are local-play only, but they're still prolonged delights that offer a faster and more exacting spin on Pikmin - and while the loss of actual dungeons is definitely felt in the story mode, in their place are a handful of creative bosses and environments of unprecedented scope.
The Wii U allows you to see them all in HD, too, which matters more than you might expect, because Pikmin's organic landscapes are suddenly visible in all their bristling and loamy glory. It's Pikmin as it always should have looked. Nintendo's not the first developer to view the world in high definition by any means - in fact it's one of the last - but it feels like the first to stare at it at such close range. This is the wettest and slimiest of video games, and it also doubles as bizarre Technicolor propaganda for good old fruit. Oranges and lemons shine out from a mass of green and brown foliage, and in the menus it's surprisingly easy to lose track of time turning a model of an apple around and around, taking in its wonderfully wonky surface and its pockmarked flesh.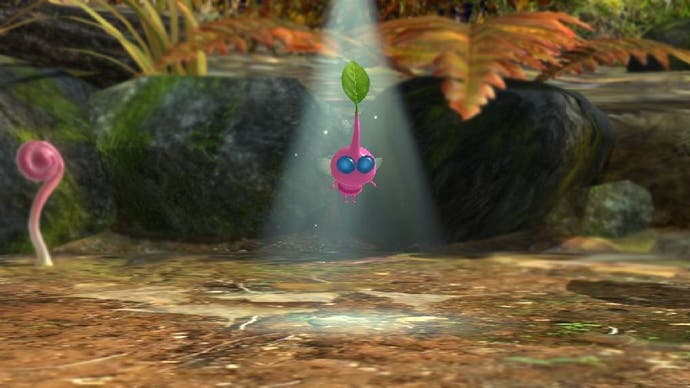 The visuals are delightful, but when it comes to the new control options, Pikmin 3 understandably plays things safe. The touch-screen is primarily used as a map, with neat but hardly game-changing elements like an ability to pause the action and set waypoints, to take in-game pictures, or to call up a series of tooltips and fruit facts and keep track of your various troops in the field. It's best used as a means of planning your day's activities in the morning, or going over what went wrong with a replay after sundown. Ultimately though, as good as the thumbsticks are for moving both camera and cursor, Pikmin's still best played with the GamePad set aside while a MotionPlus and Nunchuk are employed for precision pointing instead.
After the imaginative flights of the first Pikmin and the playful experiments of the second, Pikmin 3 inevitably comes off like consolidation (and perhaps, in the case of those dungeons, a very slight retreat). It's still a wonderful, generous game, though, and it's astonishingly adept at catering to a variety of different skill levels, whether you're a seasoned multi-tasker who divides troops to conquer, or a fretful helicopter parent hovering endlessly over a single team and bustling them past each challenge with obsessive care.
What's most striking, though, is that Pikmin still feels like strategy seen with fresh eyes - strategy, perhaps, by designers who were unconcerned with labelling, and just let their ideas lead them where they wanted to go. Just as the Koppai explorers give each lump of fruit they encounter its own name (cantaloupes become Wayward Moons, limes are reborn as Zest Bombs), Nintendo has transformed a genre traditionally concerned with large-scale warfare into a knee-high epic built of scavenging and babysitting. Survival, not domination. Family, not factions.