Pick up a Nintendo Switch OLED for £290 from Hit
The cheapest Switch OLED price around.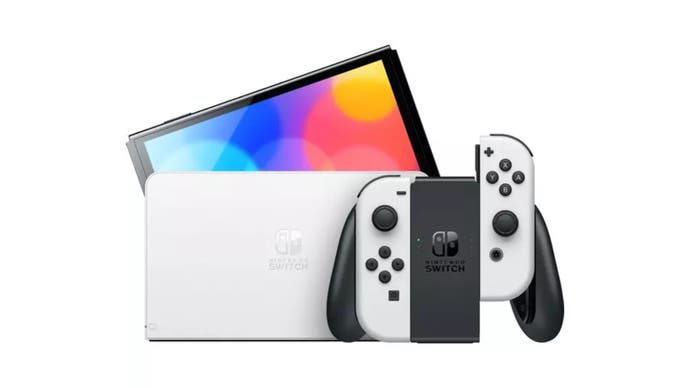 The Switch OLED breathed new life into the very popular Nintendo Switch console, and offered a good package of upgrades for the extra £50 including that larger OLED screen, a wider adjustable kickstand and a new dock with a wired LAN port.
£50 is a decent amount of money however, so deciding between the regular Switch and Switch OLED required some thought. We've spotted that the Switch OLED is currently on sale for £290 at Hit (formerly Base), making it much better value for money compared to the RRP of the regular Switch:
It's rare that the Switch OLED gets a straight-up-discount to its price, and a £20 discount is one of the bigger price drops we've seen on the console in a while, so if you've been hesitating on which console to get then snap up this deal while it's available.
In the box you'll get the Switch OLED console that features a 7-inch OLED screen, and two joy-con controllers in white. You also get the new dock that has a wired LAN port, the AC adapter and an HDMI cable, so you'll need your own ethernet cable if you want to connect it to your router.
The Switch OLED comes with 64 GB of system storage, which is good enough for a few games because some of that 64 is reserved for system data. If you want to have lots of games ready-to-go on your Switch OLED, especially digital downloads, then investing in an SD card is an easy way to do that. Have a read of Digital Foundry's best micro SD cards for Nintendo Switch guide to find the best option for you.
If you want to know when there are new discounts on Switch Consoles or Switch games, like the excellent Metroid Prime Remastered which is already discounted to £28.85 at Hit, then make sure to follow the Jelly Deals Twitter where we tweet out the best deals for the Switch and other consoles when we see them.