Papo & Yo launches on Steam today
Prepare to cry.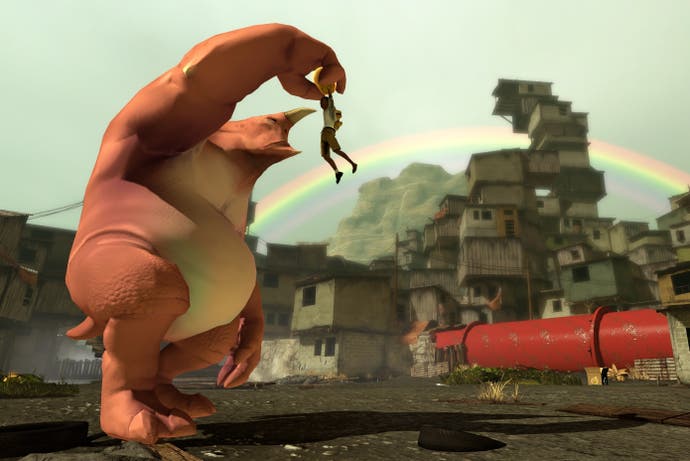 Vander Caballero's semi-autobiographical fantasy gamevella Papo & Yo has emerged on PC today via Steam.
It's on sale for £10.79 / $13.50 this week and will increase to its standard price of £11.99 / $14.99 on 28th April. You can also buy the Soundtrack Edition for £12.99 / $16.99, in case you want to hear some catchy tunes set to the sound of clanking cow jaws.
Previously a PSN-exclusive after developer Minority was selected as the beneficiary of Sony's Indie Pub Fund, Papo & Yo tells the story of a young boy whose best friend is a monster based on Caballero's abusive, alcoholic father. Players solve puzzles, explore a surreal favela, and try to reconcile this melancholy relationship.
The PC version of Papo & Yo features improved graphics, controls, animations, and supports Steam Big Picture Mode.
Papo & Yo was a critical darling when it came out last summer. Our Simon Parkin praised it as "evidence that games have the capacity to speak to the darker folds of the human condition, and illuminate them" in his Papo & Yo review.