Overwatch's next hero is "evolutionary robot" Echo
Copy that.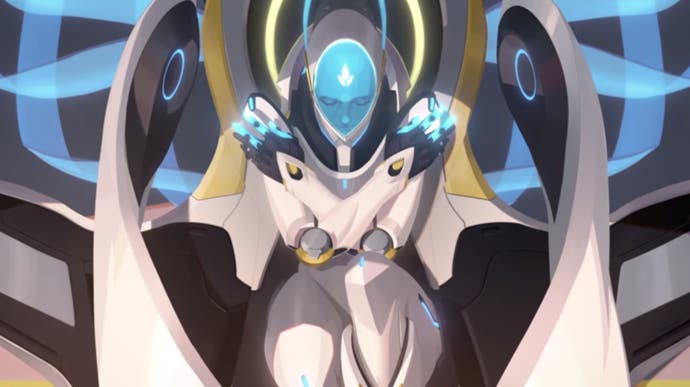 Blizzard has unveiled Overwatch's 32nd hero, and it's a familiar face, arriving in the form of sleek "evolutionary robot", Echo - a being said to have been "programmed with a rapidly adapting artificial intelligence" and representing "the cutting edge of technology".
Attentive sorts might recall that Echo has been loitering in the background as a prime candidate for new hero status since November 2018, where she made her debut as part of gunslinger (and Overwatch's 29th hero) Elizabeth Caledonia "Calamity" Ashe's reveal trailer.
Blizzard began teasing Echo's imminent arrival as hero 32 earlier this week, when the official Overwatch Twitter account posted the personal log of character Dr. Mina Liao, recounting her successes with the mysterious, omnic-related "Athena prototype". Echo was then name-checked directly, albeit subtly, in a follow-up image.
"Why can't we see that artificial life is still fundamentally life?", mused Liao, "Instead, we're going the opposite direction. Violence against omnics is on the rise, and even more governments are cracking down on their rights and freedoms. I can only hope that this project can change the conversation: that people can understand that the potential of artificial life is so much greater than whatever we have to gain by treating them as our property, or our servants."
Echo, who was created by Liao as a reflection of herself in order to assist Overwatch, gets the full animated origin story treatment in the reveal trailer above. Blizzard hasn't yet detailed her hero-specific abilities, but presumably we'll get the complete run-down very soon.