Octopath Traveler prequel announced for mobile
And a new console game is in production.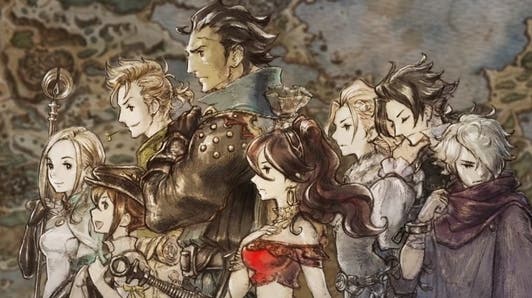 Octopath Traveler fans are having quite a day: along with celebrating 1.5m units shipped globally, Square Enix has announced a brand new game for the series, while there's talk of another Octopath Traveler console game.
Let's start at the beginning - or rather, even before that. The first of the new games is a prequel called Octopath Traveler: Champions of the Continent. The free-to-download title will release on iOS and Android in 2019 (in Japan, at least). The game's Japanese website explains it's set in Orsterra, allows users a choice of story between three "reigning champions", and features eight-character party command-based battles (thanks, Gematsu).
Meanwhile, there's also talk of another Octopath Traveler game for console. Square Enix's Tomoya Asano previously mentioned the possibility of a sequel in an interview with Famitsu back in September (via RPG Site), although it sounds like players will be waiting a fair while for this.
"Everyone waiting for a new game on console, we're sorry, but production will take a little while longer," the Octopath Traveler Twitter account stated. "In the meantime, we hope you can enjoy [the smartphone game]!" (via Gematsu)
RT
スマートフォン版の新作が
情報公開されました!
オルステラ大陸を巡る、新たな物語。
3/12に先行体験版のプレイヤーも募集開始です。

家庭用ゲームで新作をお待ちの皆さんも、
すみません、今しばらく制作の
お時間をいただきますので、

その間、こちらもぜひ
お楽しみいただけると嬉しいです!

— オクトパストラベラーII公式 (OCTOPATH TRAVELER II) (@OCTOPATH_PR) March 8, 2019
While you wait for further news of the console game and Champions of the Continent's release, you can pre-register for the latter over here.