Now there's a Resident Evil 2 first-person mod
So you can get X-tra cosy with a certain someone.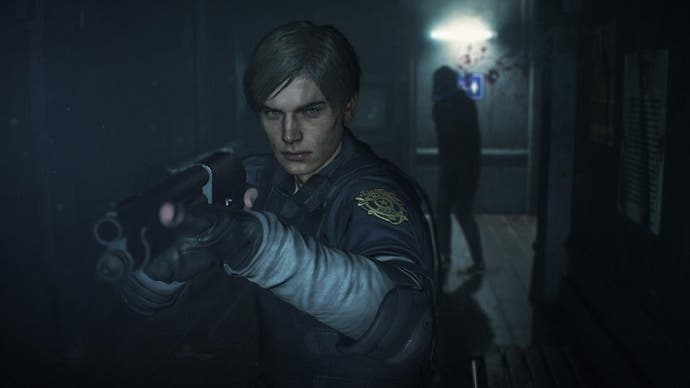 Alright, you've seen the Paranormal-Activity style fixed cameras mod for the Resident Evil 2 remake - but if that didn't spook you enough, you can now get up close and personal with all the horrors of Raccoon City thanks to this first-person mod. Just what you always wanted.
The PC mod by praydog, which is currently available for download on GitHub (thanks, ResetEra), adjusts the player perspective to help you get inside Leon and Claire's heads... literally. It's a little rough around the edges, with wobbling and the occasional slip back into third-person, but it's not bad for a work in progress - and I suppose shaky-cam makes it somewhat scarier anyway. If you want a preview, check out the video by Sticky below:
According to Sticky's instructions, to install this mod you'll need to download the binary from AppVeyor and move the file "dinput8.dll" into the Resident Evil 2 main root folder.
Next, download the mod from GitHub, unpack the files, pop them into the same place as dinput8.dll, and press "Install_vs2017". You'll then have to restart the game and enable the first-person mode. It's also worth noting that DirectX 12 is not supported, so roll back to DirectX 11 if you experience problems.
It's not the first time a Resident Evil game has been given a first-person makeover: back in 2017, one modder reimagined the original title as a first-person game and displayed their work in a video. I guess you can also just play Resi 7.
In any case, it's pretty fun to view the Resident Evil 2 remake from a different angle - particularly if it's your second playthrough. And you'll get a pretty good look at Mr.X when he inevitably bursts through the door. Mm, those wrinkles.