No Man's Sky's big new Visions update leaks with a trailer
UPDATE: Out tomorrow!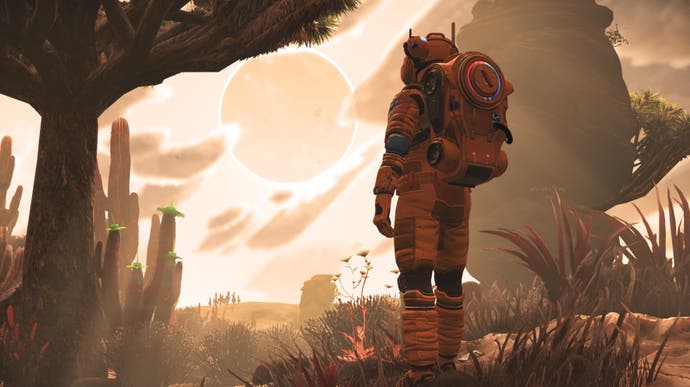 UPDATE 21/11/18: In case you had any doubt of its veracity, Hello Games has confirmed that No Man's Sky's previously leaked Visions update is indeed a thing that is coming. And, better yet, it's a thing that's coming tomorrow, Thursday 22nd November, on PC, Xbox One, and PS4.
Based on Hello Games' announcement, there's not a lot to add that wasn't already in yesterday's leaked trailer. However, it's well worth changing out the official Visions patch notes on the No Man's Sky website, as they contain a huge number of screenshots, and some more granular detail, illustrating the increased variety that tomorrow's update will bring.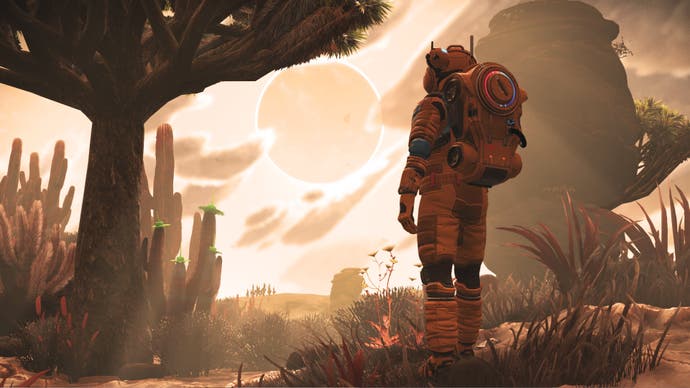 ---
ORIGINAL STORY 20/11/18: Visions, a big new update for Hello Games' interplanetary exploration adventure No Man's Sky, has been inadvertently revealed after fans discovered an unlisted new trailer on the developer's official YouTube channel.
Visions has been unearthed mere weeks after the arrival of Hello Games' surprise The Abyss update, which offered a major overhaul of No Man's Sky underwater elements. But despite Visions' close proximately to its predecessor, it looks just as significant in scope.
Judging by Visions' newly leaked trailer, the key word this time around is "variety", with the majority of the update's additions seemingly focussed on increasing diversity across the board. According to the trailer, No Man's Sky will receive five new planetary biomes, a greater variety of fauna (and some exceptionally weird new flora), an increased colour palette for landscape elements, plus improved skies and atmospherics, and even rainbows.
Elsewhere, it appears there'll be more reason to break out the terrain manipulator in Visions, with fossilised alien bones now buried beneath the earth. Additionally, there are procedural crashed freighters to be raided, while debris and alien technology can be salvaged for scrap. There's even talk of corrupted sentinels, valuable new resources in the form of storm-activated crystals, plus rare artefacts that can be uncovered and displayed back at base.
And if that isn't enough, Visions will also apparently introduce new Community Missions in which progress is shared globally, new emotes, more building parts, and even a selection of fireworks, should you suddenly come over all celebratory.
There's no official word on when No Man's Sky's Visions update might emerge from its blanket of recently disturbed secrecy, but hopefully Hello Games will be ready to share more soon.