Nintendo dominates Japan's top 10 selling games of 2017 so far
Switch it up.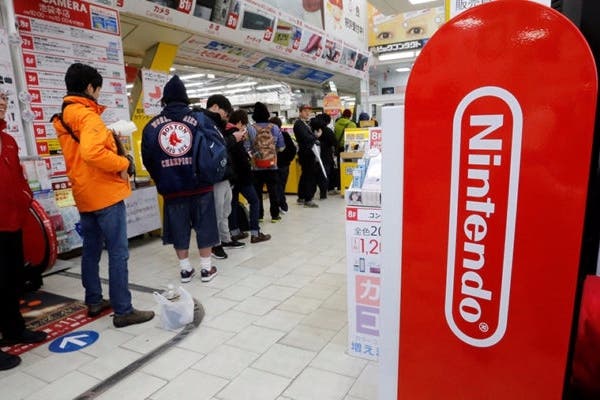 Nintendo still rules video game sales in Japan.
Japanese video game magazine Famitsu published sales figures for the first half of 2017, and eight of the top 10 best-selling games are for Nintendo platforms.
Perhaps unsurprisingly, the best-selling game in Japan so far this year is a Monster Hunter title, specifically Monster Hunter XX for the Nintendo 3DS, which has shifted an impressive 1.6m copies.
There's a big drop-off to Pokémon Sun & Moon on 3DS, which has sold 527,000 (Pokémon Sun & Moon launched November 2016, when it sold 2m copies in three days just in Japan), and Mario Kart 8 Deluxe on Switch, which has sold half a million.
The only non-Nintendo platform games that make the top 10 are PS4 titles Resident Evil 7 and Nier: Automata.
The best-selling hardware list paints an expected picture. The Switch is on top with 1m units sold so far this year, the PS4 close behind with 877,000 and the 3DS in third with 872,000. The poor old Xbox One has sold just over 5000 units in Japan in 2017, with a life-to-date figure of 78,000. Those astonishingly low figures don't come as a surprise - Microsoft's consoles have always struggled in Japan.
Writing on his website, Japanese video game market specialist Serkan Toto said Japan's console market went up 14.8 per cent in the first six months of 2017, buoyed by the successful launch of the Nintendo Switch. This is the first increase in three years when considering the first six months in a year.
It should be noted, however, that the Nintendo Switch is only a few months old, and so a bump was expected. It remains to be seen whether the Japanese market, which in recent years has favoured smartphone games over video game consoles, continues this upward trend.
Here are the lists:
Top 10 best-selling games of first six months of 2017:
Monster Hunter XX for 3DS (1,640,005 units sold)
Pokémon Sun and Moon for 3DS (527,862)
Mario Kart 8 Deluxe for Switch (501, 614)
Zelda Breath Of The Wild for Switch (464,480)
Super Mario Maker for 3DS (397,656)
Biohazard 7 for PS4 (324,066)
NieR: Automata for PS4 (311,906)
Momotaro Dentetsu 2017 Tachiagare Nippon!! for 3DS (263,790)
Yokai Watch Sukiyaki for 3DS (215,297)
1-2 Switch for Switch (200,807)
Top five best-selling consoles of first six months of 2017:
Nintendo Switch: 1,016,473 units sold
Sony PS4: 877,630 (now at 4,799,246 total)
Nintendo DS: 872,620 (22,784,033)
Sony PS Vita: 260,296 (5,507,715)
Microsoft Xbox One: 5,093 (78,041)