Nier: Automata characters go pixel art for Final Fantasy Brave Exvius crossover
16Bit.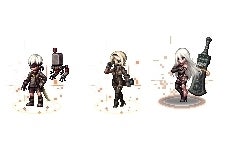 Hot on the heels of Ariana Grande's star turn in Final Fantasy Brave Exvius comes the mobile hit's latest crossover: Nier: Automata.
Characters from the brilliant action game will this Friday, 11th August be available in pixel art form. So, expect to see 2B, 9S, 21O, and Adam in the game, as well as A2 and Eve as two new characters.
During the crossover event, which ends on 24th August, players face off against waves of machines and bosses from NieR: Automata, collecting medals to be exchanged for materials used to craft weapons and armour, including Emil's Head.