Glamour models rides 187
It's all a bit wrong.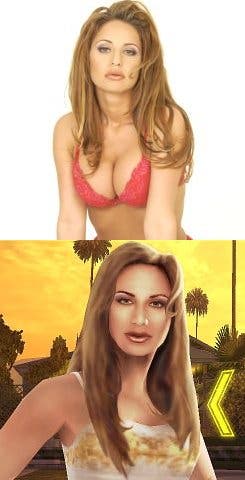 In news that's sure to capture the attention of sexually repressed games journalists everywhere, Ubisoft has revealed that it's convinced UK glamour model Thekla Roth to appear in its forthcoming street racing combat game 187 Ride or Die for PS2 and Xbox.
Ms Roth, pictured to the left in both real and game form, is apparently a regular on the "fast car circuit" and some of you may have seen her past work in the pages of men's magazines in the UK. Apparently she'll be making a personal appearance at an upcoming European event for the game.
"It's a completely new thing for me to be involved with a video game," said Thekla. "I'm a huge fan of cars and regularly model at all the big car shows. So, when Ubisoft approached me to appear in 187 Ride or Die, it seemed like a great opportunity to try something new that incorporated my favourite things; fast cars and fast driving!"
This is the point at which we'd normally say a couple of things about the game, but we've probably already backed over our integrity enough by covering this at all without giving them a free plug. Go read its website if you like. We imagine it's about shooting people while driving fast cars. Probably post-apocalyptically. Enjoy.