Farah's POP3 return explained
See what she looks like, too.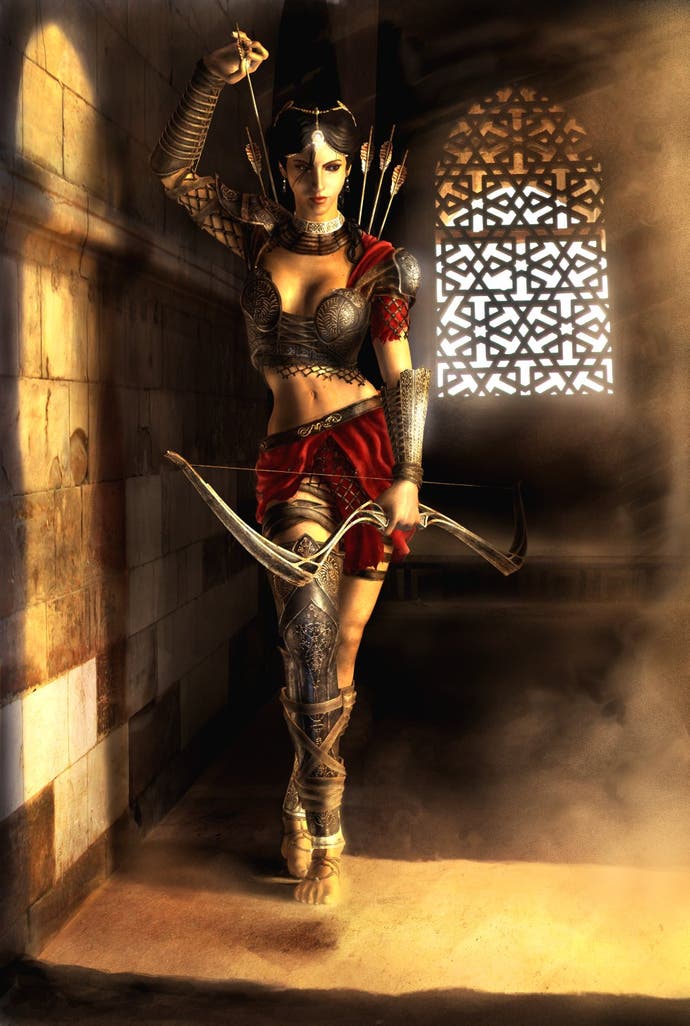 With Prince of Persia 3 nearing completion, Ubisoft has released details of some of the secondary characters we can expect to see. The developer is pitching the third game as a concluding chapter that "will bring back all the major characters" - and the most significant addition to the line-up has to be Farah, heroine of The Sands of Time (pictured left in her new threads).
Farah was somebody that Sands of Time fans truly loved - and whatever you thought of the stylistic changes made in Warrior Within, Ubisoft is keen to stress that Farah has definitely not succumbed to teenage angst and too many Babylonian death-metal influences. Having been left in a cage to rot while her city was laid waste, she's a bit pissed off, but script-writer Corey May knows what we want to hear. "Is she a tough-as-nails, take no prisoners, super violent killing machine? No, no, no," he says.
Her role is "quite significant" however. "She brought a lot of emotions and wit to POP Sands of Time," May explains. "Farah is going to help The Prince learn compassion... she's going to help him learn how to be a better person. She's also going to provide some of the classic back-and-forth fun fans remember from Sands of Time."
"Know that prior to the attack on Babylon, the Indian capital was assaulted as well (by the same people). Farah's father has presumably been killed, and her people enslaved by this new enemy. At this time, Farah was imprisoned – forced to watch as these terrible events unfolded.
"When the invaders set their sights on Babylon, she was transferred to the city as well. Clearly the leader of the invading army has something 'special' in store for her. The reasons for this will become clear over the course of the game."
Farah and the Prince have been separated for seven years - and those of you who finished The Sands of Time know that it'll be, er, 'complicated' when they do see each other again. But whatever your concerns, May reckons they shouldn't be for the way she's presented. She's "still a compassionate and caring individual" and "quick-witted and playful" Her aim with the bow is said to be much better, "but don't expect her to have evolved into some kind of blood-thirsty amazon warrior maiden."
Certainly words we want to hear. Kaileena and the Old Man are also said to be key characters in POP's concluding chapter - Kaileena now thinks that her fate, which was to be killed by the Prince, may have simply shifted locations following the conclusion of Warrior Within, and the Old Man - ever the Prince's mentor - has seen his beliefs about fate derailed somewhat, and his allegiance and conviction is likely to be explored by the POP3 storyline.
Having been encouraged by what we saw of POP3 recently, we look forward to seeing how it all plays out.