Pink DS and Blue DS on Oct 7th
To celebrate Nintendogs.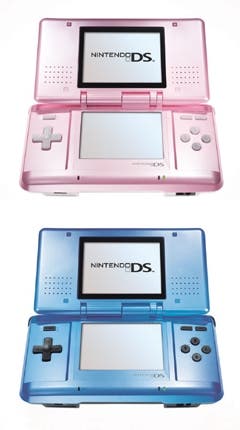 Those putting off buying a Nintendo DS (sorry: "Those poor people putting off buying a Nintendo DS") may want to continue doing so until October 7th - when Nintendo launches Pink and Blue versions of the console in Europe.
They're so Pink and Blue that we're using capital letters, and apparently they're to help celebrate the launch of Nintendogs on the same day (better than a Pedigree Chum DS, eh? Actually, no, that would rule). Nintendogs of course is a stroke of genius and you'd have to be barking to flea from it once it's collared you for the first time. Pat is known to want a copy.
Nintendo's senior director of European marketing said... something boring, which went like this: "Since launching Nintendo DS in Europe on 11th March 2005, over 1 million people across Europe have embraced this new way to play games. With three new colour choices now available and the launch of the groundbreaking Nintendogs in time for Christmas, we will continue to expand the handheld market and will be well on track to achieving sales of over 3 million Nintendo DS across Europe by the end of this year."
The announcement doesn't specify pricing, but the Pink and Blue DS consoles should retail for the same price as a normal DS - i.e. £99.99.