DS launches with a bang in the UK: London pictures
Genuine excitement accompanies the release of Nintendo's double-screened wonder in Europe. We have the photos to prove it.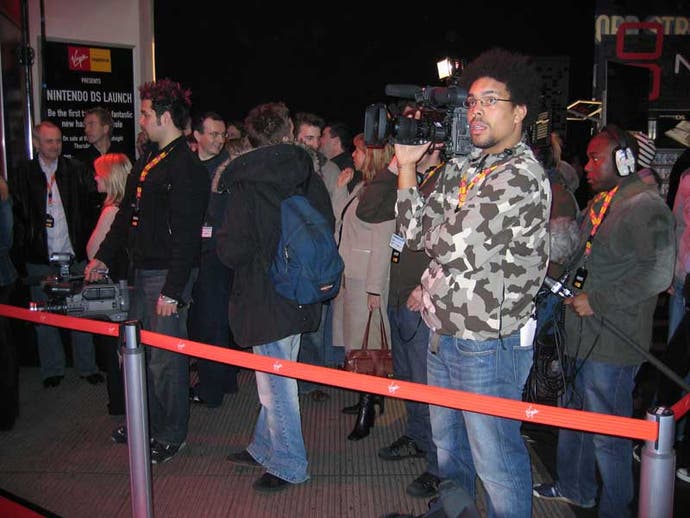 Nintendo DS's midnight launch in London was an unqualified success last night, with hundreds of screaming punters and a sizeable gaggle of press descending on Virgin Megastore in Oxford Street to herald the arrival of the new machine.
Nicola, a 20 year-old winner of a Nintendo competition to be first in line to buy a DS in the UK, scuttled the mainstream view that all gamers are geeky boys, and was hounded by TV crews and radio journalists alike as the clock counted down to midnight.
"It just seems like a really innovative gadget," she told Eurogamer. "I entered the competition and here I am. It means I get the No. 1 pass, so I can jump the queue."
The first male gamer in line to pick up the handheld was 15 year-old Junior Oppong. "It's the next big thing," he said. "I'm not going to buy a PSP. I don't need to."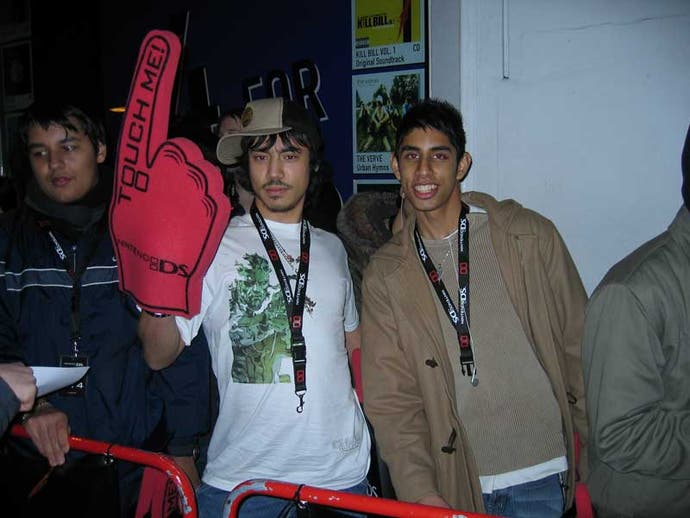 Junior was most definitely loving Nintendo. "It's Nintendo. What else do you need to say? They make the only games that matter," he said. He'd queued outside the London store since 3.30pm, and was proudly brandishing the No. 2 pass.
But not all of the crowd were so complimentary of the new machine. Despite queuing in the cold since 8.00pm and brandishing a 'crazy' foam DS pointer hand thing, Manuel admitted he was more excited by Sony's PSP than the Nintendo's new machine.
"It's PSP all the way," he said, a view echoed by his friends. "I feel like a traitor to PSP just by being here, but what can you do?"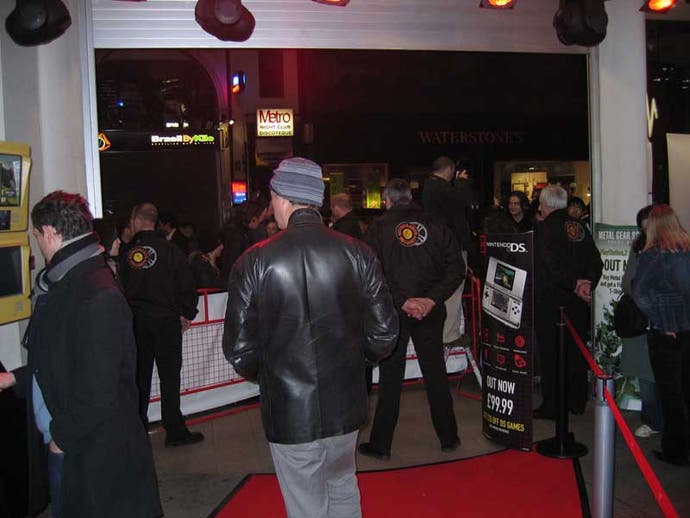 Despite PSP looming on the horizon, nothing could dampen the spirits of the crowd last night. A flash chorus, cheers and grins lit up one end of Oxford Street as the clock struck midnight, and Nicola was let through to buy the first DS in from the store.
Virgin had opened five stores across the UK at midnight to usher in Nintendo DS, in London, Glasgow, Cardiff, Liverpool and Birmingham. The first 50 buyers through the doors in each shop got a goodie bag, and one lucky early adopter from London will be taken on an all-expenses paid trip to Japan to meet Mario creator Shigeru Miyamoto.
For more photos of the launch, head here.
Initial DS sales figures from the UK and Europe are expected later today and throughout the coming week. We have full coverage of the launch here including links to reviews of many of the key titles.