Designer X360 faceplates
Karl Lagerfeld's doing one.
What with all the time top designers seem to spend tarting up PSPs, iPods and the like these days, it's a wonder they ever get round to designing any actual clothes.
And now they're at it again - French fashion house Colette has unveiled a new range of Xbox 360 faceplates that have been mucked about with by the likes of Karl Lagerfeld, Sonia Rykiel, Pedro Winter and Irina Volkonski, one of whom we've actually heard of.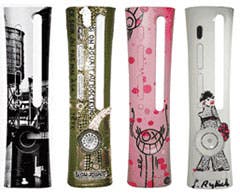 The faceplates will go on show in an exhibition titled - wait for it - 'Face Plate'. There's no word yet as to whether they'll be available for sale.
Course, if you attended the Xbox 360 UK launch party recently, you'll already be in possession of a designer faceplate. All partygoers were given one of 600 faceplates which came together as bricks to form the "Xbox 360 graffiti wall". The wall was then sprayed by Gorillaz artists the Zombie Flesh Eaters and creative group Beat 13. Ours is sort of green and blue and black and doesn't really go with the curtains but never mind.
If you want a fancy faceplate but don't give a toss about arty farty designers, a "solid gold" one is still up for grabs on eBay - no one's put in that starting bit of $36,000 yet, amazingly.