DS packshots, Metroid details and new games
Packshots of Nintendo's handheld titles - including Mario 64 - sneak onto the web, while Metroid grows in stature and Konami and Shonen Jump announce new Japanese DS titles.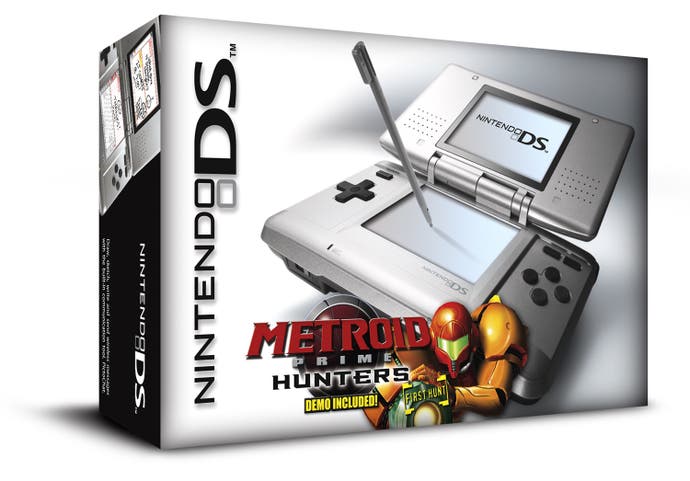 Just under seven weeks. Normally, when there are just under seven weeks standing between us and the launch of a brand new console, we know everything up to and including its inside-cartridge-port measurement. As far as the Nintendo DS stands, we only know how much the system itself will cost. In terms of launch line-up, we're still limited to a rough idea of what to expect.
And given that the DS is extremely unconventional compared to the average console, it's doubly exasperating. We want to know! Fortunately, Net-going gamers tend to prosper in an information vacuum, often dredging up very revealing information while officials toil along in the background preparing the perfect launch ceremony. And so it seems, to a certain extent, with the DS.
As US journos prepare for a "Gamers Summit" later this week, at which Nintendo is expected to unveil far more DS details - perhaps including the launch line-up - eager beavers have uncovered a certain amount of box artwork and information to go alongside the official hardware packshot (pictured), which was released last week.
US retailer GameStop is the source, having uploaded a couple of Nintendo DS packshots that, although unconfirmed at this point, are certainly very close to what we expect the real thing to look like. Spider-Man 2, one of the only confirmed launch titles, can be seen here, while perhaps more interestingly "Super Mario 64 DS" can be seen here, suggesting it too will be amongst the launch titles. Both shots stand out in a crowd of otherwise obviously Photoshopped mock-ups.
Furthermore, as we reported here recently, Metroid Prime: Hunters - a demo of which is set to ship with the DS hardware itself - has been overhauled significantly since its E3 showing, with the action on the two screens swapped around and the action of firing by tapping the stylus on the screen revised so that you're not forced to fire when you don't want to. It'll certainly be interesting to see what Nintendo's done here.
Meanwhile, a pair of new DS titles have been confirmed in Japan, although there's no suggestion at the moment that we'll see them anywhere else. The first, from Konami, is one of the company's Prince of Tennis titles, subtitled Crystal Drive. It's based on the popular manga series of the same name, and although details are scant The Magic Box has a few screenshots.
Joining Prince of Tennis on the DS release list is a game based on manga weekly and occasional gaming news source Shonen Jump. Jump Super Stars will feature various characters from the magazine, but it's not clear what the set-up will be - even the genre, for now, is still to be established.
All this after Namco and Majesco started talking up their DS titles, Pac-Pix, Mr Driller, Nanostray and Moonlight Fables, earlier this week. With not long to go, expect to hear more and more about the Nintendo DS in the coming weeks - including information on who you can import it from.