New Overwatch castle map Eichenwalde revealed
Gut Gott!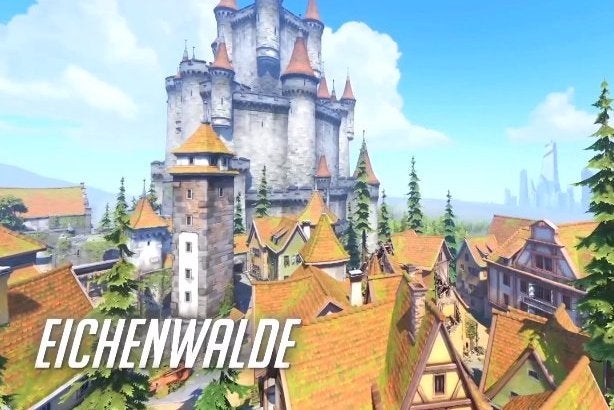 It's a bloody castle! Blizzard has unveiled a new map for team shooter Overwatch and it's a bloody castle - a German castle called Eichenwalde.
Eichenwalde arrives September and offers ramparts to climb on, a drawbridge to cross and even a battering ram - which also appears to be the payload!
Also, Eichenwalde is apparently where Bastion came from. Most of the Bastion units used by the omnic forces were destroyed at the end of the war, but not all were found. Eichenwalde looks like the site of a bloody battle between human and omnic (look out for the Reinhardt-alike on the throne), and I assume the Bastion unit we know, was overlooked, and went dormant in the nearby forest. I've written a piece about Overwatch's story if you care.
The Eichenwalde map is playable at Gamescom and we'll try and do exactly that.
There was no mention of the mysterious character Sombra, who we expect to be the next new Overwatch hero, although I doubt we'll see another playable face so soon after Ana's arrival. Then again, the new video hasn't been dissected by the community yet. We looked at the flashes in the video's transitions frame-by-frame, as this is where secret Sombra messages have been found before, but turned up nothing.
Incidentally, on the topic of Bastion: the new animated short The Last Bastion airs on Thursday. We were offered the shortest of glimpses as the bird so often pictured with the robot pecked at its face in a forest - and then Bastion reactivated.