Surprise! New Nintendo 3DS Ambassador Edition goes on sale
UPDATE: Nintendo "unable to disclose" criteria for eligibility.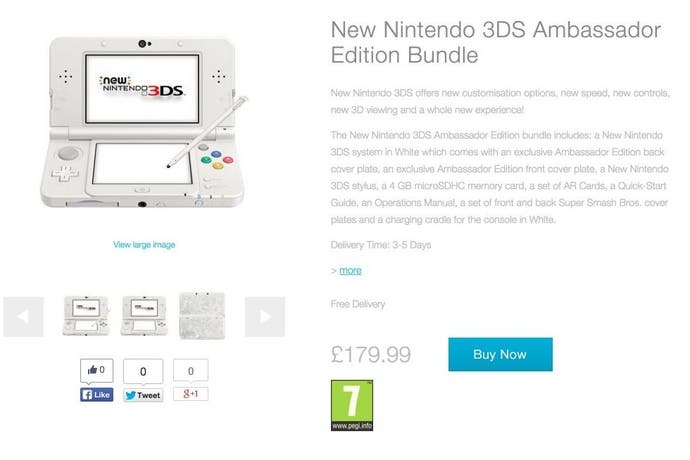 UPDATE 6/1/15 11.25am: Nintendo has told Eurogamer that it is unable to disclose the method of how it picked Club Nintendo members for eligibility.
Being a 3DS Ambassador does not guarantee availability of a New Nintendo 3DS Ambassador edition - instead, certain other criteria were used to determine who was sent an invitation to purchase.
"The New Nintendo 3DS Ambassador offer is by email invitation only for selected Club Nintendo members in Europe only who fulfil a certain criteria," a company spokesperson told us.
"We are unable to disclose such business information, however we would like to reassure you that we are continually looking at different promotional offerings we can bring to consumers at various times throughout the year.
"The terms and conditions for such promotional activities are individual to each promotion,but we will endeavour to bring you more promotional activities in the future, which we hope you will be able to take advantage of."
ORIGINAL STORY 6/1/15 11.05am:
Nintendo is offering a limited edition version of the New 3DS to select fans.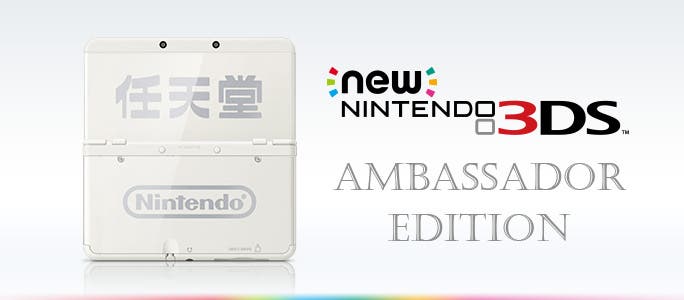 The New Nintendo 3DS Ambassador Edition is available to buy now - before the handheld's official European launch. It includes an exclusive front cover plate.
The bundle also includes a set of Super Smash Bros. cover plates (front and back) and a charging cradle.
The deal is only available via Club Nintendo, and is priced at £179.99.
Individually, Nintendo has priced the New 3DS as worth £155.99, with cover plates valued at £7.67 each. A regular 3DS now costs around £89, although was originally sold for around £219 (pre-price cut).
Nintendo of Europe emailed those eligible for the scheme this morning - but not all 3DS Ambassadors appear to have received emails.
Nintendo previously crowned a special set of early 3DS adopters as Ambassadors - those who purchased the original 3DS early, before its original price drop - who were then gifted 20 Virtual Console titles to make up for paying extra at the handheld's launch.
Speaking to Eurogamer, a Nintendo spokesperson said that the scheme was only eligible for "selected Club Nintendo members" and is valid only while stocks last.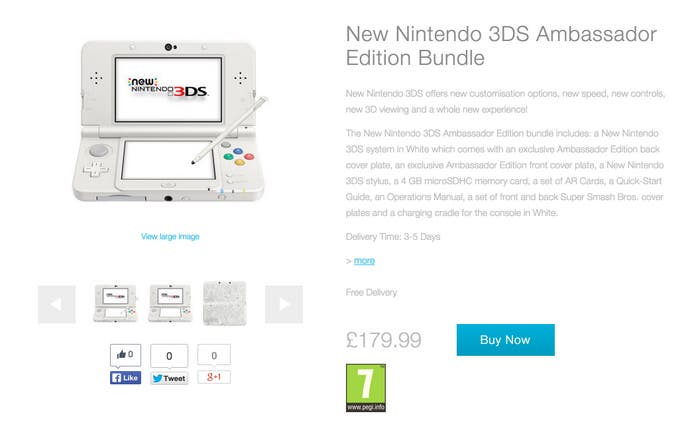 We're trying to find out the exact specifics now - but if you think you're eligible, check your inbox for the following email:
"Dear Nintendo fan,
"We'd like to thank you, one of our most loyal customers, for all your support. To show our appreciation, we're offering you the chance to purchase New Nintendo 3DS now, and get it before the official European launch!
"New Nintendo 3DS will be coming to Europe in 2015, bringing new customisation options, new speed, new controls, new 3D viewing and a whole new handheld gaming experience! And with this offer, you can be one of the first players in Europe to own the new system!
"For a limited time only, we're giving you the opportunity to purchase our special New Nintendo 3DS Ambassador Edition bundle - that includes exclusive Ambassador Cover Plates (which won't be available anywhere else), a charging cradle, and a set of Super Smash Bros. cover plates, too! If you'd like to purchase it, you only have until 23:59 (UK time) on January 12th 2015 to take advantage of this offer."
There's no word yet on when the New Nintendo 3DS will be available in Europe for everyone else.