Need for Speed Payback is EA's next racer
"This is our vision for what action driving entertainment means today."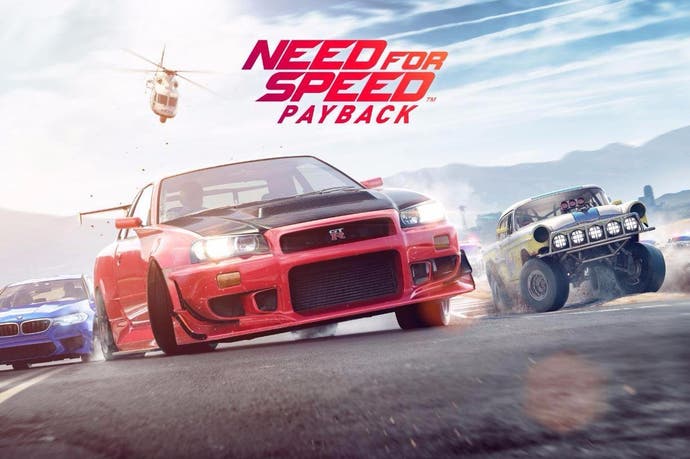 Need for Speed Payback is the next title in EA's long-running racing series. Developed by Ghost Games, the studio formed by ex-Criterion staffers who developed Need for Speed Rivals and 2015's Need for Speed reboot, Payback will launch on 10th November for PS4, Xbox One and PC.
EA really seems to be playing up Payback's plot, for some reason, as this excerpt from its announcement boasts:
"Set in the underworld of Fortune Valley, players will drive as three distinct characters reunited by a quest for vengeance against The House, a nefarious cartel that rules the city's casinos, criminals and cops. They will take on a variety of challenges and events as Tyler, the Racer; Mac, the Showman; and Jess, the Wheelman to earn the respect of the underground."
Okay then.
Meandering story aside, the gambling angle does sound interesting in that it will let players set their stakes. So if you bet a lot of dough on yourself and come out ahead, you can multiply your winnings. Lose, however, and you'll go broke.
Ghost Games seems pretty confident that it will be more action-packed than your usual racing game, though it's not exactly clear how.
"Need for Speed returns this year to challenge what players expect from racing games," boasted executive producer Marcus Nilsson. "We're still delivering everything our fans love about the franchise - the deepest customisation, an impressive roster of cars, intense races and open world pursuits - but with Need for Speed Payback, we're bringing together all those elements in an all new blockbuster driving experience.
"From the story, to the different characters you can drive as, to the varied missions, to the edge-of-your-seat moments, this is our vision for what action driving entertainment means today." Pre-orders of Need for Speed Payback come with the Platinum Car Pack offering five unique cars at launch. These include the Nissan 350Z 2008, Chevrolet Camaro SS 1967, Dodge Charger R/T 1969, Ford F-150 Raptor 2016, and the Volkswagen Golf GTI Clubsport 2016. Oh, and they'll all have "exclusive Platinum Blue Tire Smoke" if you care about that sort of thing.
There will be a few ways of attaining the game early. The spendier Need for Speed Payback Deluxe Edition offers three day early access, unlocking the full game three days early on 7th November.
This also adds a few nifty perks like a customisable license plate and NOS colour, discounts for in-game purchases, Rep bonuses, the aforementioned Platinum Car Pack and more.
If you're an EA Access or Origin Access subscriber you'll be able to play Need for Speed Payback for up to 10 hours beginning as early as 2nd November. You'll also receive the game for 10 per cent off (which basically means you'd break even with the service's £3.99 a month charge).