Myst dev's surreal sci-fi adventure Obduction is currently free on GOG
But you'll need to hurry.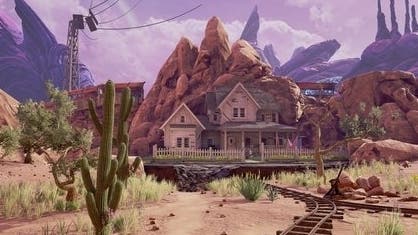 If you're in the market for a good, solid freebie - and I assume you are, given that you've already read the headline - then you've come to the right place. Myst developer Cyan Worlds' enjoyable sci-fi mystery adventure Obduction is currently free on GOG until tomorrow, 1st June.
Obduction released back in 2016, and is very much a spiritual successor to Cyan Worlds' seminal Myst and Riven series, featuring the same kind of low-key, open-ended meandering and oblique puzzle solving, in a surreal, strikingly designed alien world.
And the good news is that it does a lot of stuff right, with a strong story premise (which I won't spoil), a pitch-perfect atmosphere - absolutely nailing the sense of wonder and isolation - and conundrums that are, for the most part, logical and immensely satisfying once you finally tease out a solution from the subtle environmental clues. Do be warned, however, that the whole thing comes to a crashing halt about two thirds of the way through with a truly godawful sequence of trial-and-error puzzles that constantly force you between locations, leading to endless loading screens and an increasing sense of despair.
Obduction's highs are many in the early stages, but considerably less so as the game draws on. So while I'm not sure that I'd recommend it in normal circumstances, I'd say it's well worth checking out if you're a lapsed Cyan Worlds fan, or simply into atmospheric puzzlers, while the game is free. And free it will be for the next (just under) 16 hours on GOG, meaning the offer should end around 2-ish pm tomorrow, 1st June, in the UK.
All you'll need to claim your game is a GOG account, and a willingness to hit the corresponding buttons here. The Obduction freebie, incidentally, is part of the GOG Summer Sale Festival, which is very much now on.