Minimalist fencing game Nidhogg is Vita-bound
Features Cross-Buy & Cross-Play support with PS4.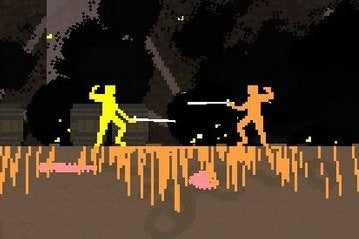 In May we announced that minimalist sword fighting game Nidhogg would be coming to PS4 and it's now been revealed that it's set for Vita too.
Better yet, it will include Cross-Buy and Cross-Play support for the PS4 version, which it's slated to have a simultaneous release with.
The Vita version of Nidhogg also supports ad-hoc play and there's even a control option so two people can play with one Vita wherein each analogue stick controls a different character.
While each match only supports one-on-one play, there is a tournament mode where three to eight players can compete by switching off to face off against their best matched opponent(s).
Eurogamer contributor Quintin Smith was rather smitten with Nidhogg upon its Steam release earlier this year. "Nidhogg's shimmering reputation is deserved," he wrote in his glowing Nidhogg review. To see it in action, here's a Let's Play video of Eurogamer's Wesley Yin-Poole squaring off against Robert "Bertie" Purchese.