Nidhogg dev's latest, Flywrench, is coming to Steam next month
UPDATE: Out now.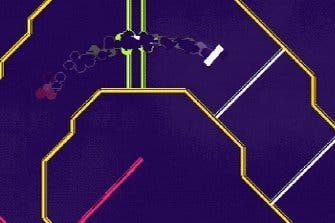 UPDATE 25/08/2015 5.46pm: Flywrench is out now on Steam.
The full game contains over 170 levels, time trials and a level editor.
It costs £6.99, but is currently 10 per cent off at £6.29 until the end of the month.
ORIGINAL STORY 31/07/2015 2.10am: Nidhogg developer Mark "Messhof" Essen is releasing his next game, a minimalist platformer called Flywrench, on PC and Mac via Steam next month.
Essen revealed this on Twitter where he linked to the following trailer showing Flywrench in action.
Confused? Here's how it works: Your avatar is a morphing spaceship that changes colour based on its maneuvers. Based on the trailer, it looks like falling keeps you white, boosting turns you red, and flapping makes you green. Match the coloured lines to pass through them. Otherwise they will kill you. A lot.
Like Nidhogg before it, Flywrench's music is composed by Daedelus, though it will also include tunes by Kuh Lida, Knife City, Goonight Cody and more.
In other Messhof news, Nidhogg just received a major update improving the latency of its PC and Mac versions.
As detailed in a Steam update, Essen brought in another programmer, Vadim Dyachenko, to assist with the game's online multiplayer. "Rather than having a set frame delay on the inputs, the new system sets the delay based on your connection," Essen explained. "Remember that a connection is only as fast as the slowest player!"
He also noted that matchmaking has been sped up and some graphical bugs have been fixed. "We really appreciate your patience during this process, and hope to see you on a more equal online playing field," Essen stated.
Nidhogg launched on PC to wide acclaim in January 2014 before being ported to Mac, PS4 and Vita. Eurogamer contributor Quintin Smith highly recommended it.