Nidhogg 2 announced for next year, with weird new art style
UPDATE: Joust announced for PS4, too.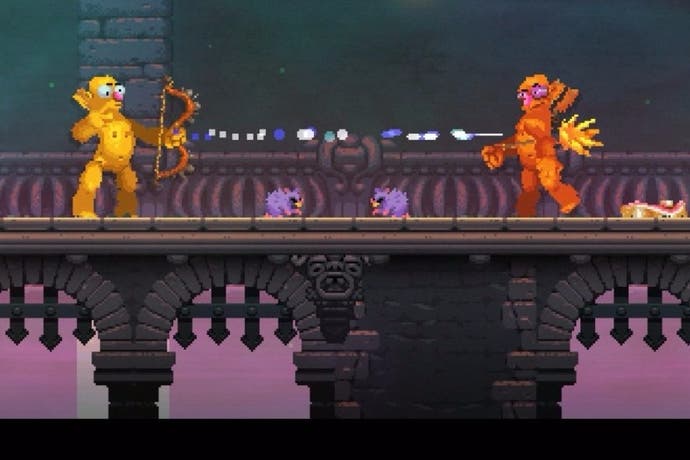 UPDATE 4/11/16: Nidhogg 2 will also leap onto PlayStation 4 when it launches for PC next year.
The redesigned sequel was first announced just over a month ago. It'll come with an overhauled look, local and online multiplayer, single-player and challenge modes and a tasty soundtrack with tunes from Mux Mool, Dose One and Daedelus.
There's still no advance on the vague "2017" release date, however.
ORIGINAL STORY 29/9/16: Messhof's minimalist dueling game Nidhogg is getting a sequel next year with Nidhogg 2.
The one-vs-on fencing sequel replaces its 2014 predecessor's pixel art with an all new aesthetic, opting for a more Itchy & Scratchy vibe (with the characters' silhouette and scream bearing a passing resemblance to Homer Simpson).
Nidhogg 2 will contain local and online multiplayer across 10-plus maps.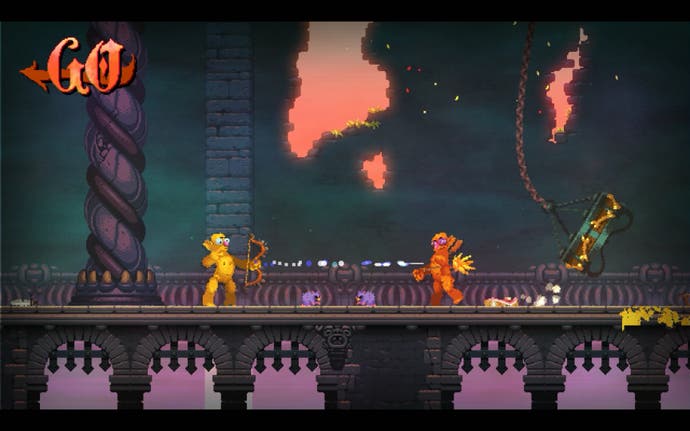 It will also have its own dedicated single-player mode with a series of AI opponents.
The soundtrack will be composed by artists such as Mux Mool, Dose One, Daedelus and more.
More excitingly, there will be bows. Bows!
We were big fans of the first Nidhogg upon its 2014 release. "Every single fight is hold-your-breath tense, and fights that last more than just a few seconds take on an air of majesty," Eurogamer contributor Quintin Smith wrote in his Nidhogg review.
Nidhogg 2 is currently slated for a PC and Mac launch, though other platforms could be announced later.