Minecraft's console editions get one more big update before cross-network play
PS4 will "continue getting updates" after other platforms combine.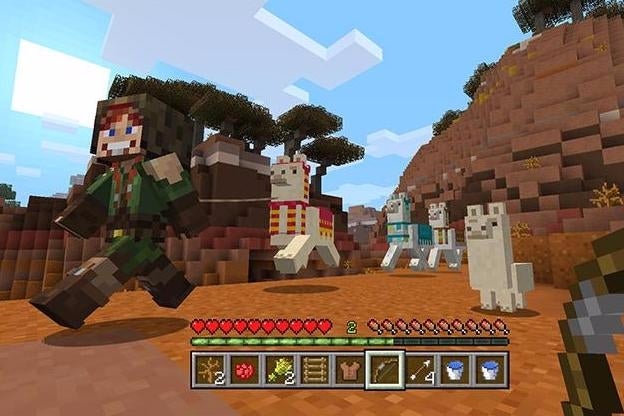 Minecraft's various console versions just got a big new update, adding in new animals, structures, blocks, villagers, items and Achievements/Trophies.
Going by the latest post on Minecraft's official blog, it sounds like the game's last major update on consoles before the game-changing Better Together Update lands later this summer. That's the update which will unify Xbox One, Nintendo Switch, mobile, VR and Windows 10 editions of the game into a single entity where everyone can play together. It's also the update which PlayStation has opted out of.
As expected, however, "platforms which won't support the Better Together Update will continue getting updates even after it lands," Minecraft's Marsh Davies reassured.
New in Minecraft on PlayStation, Nintendo and Xbox platforms right now are:
Llamas
Parrots
Woodland Mansion
Treasure Maps
Observer Block
Totem of Undying
Illagers: Vindicator, Vex and Evoker
Bouncy Beds
Dyeable beds
Option to change Biomes size to match other platforms (since they are smaller on console by default)
Seven new Achievements/Trophies
New UI engine (saving significant memory - which should boost performance)
Two paid-for packs join the free additions above - a fresh collection of tracks for the Glide mini-game, and a new skin pack featuring designs which let you play as animal-themed teams in competitive play.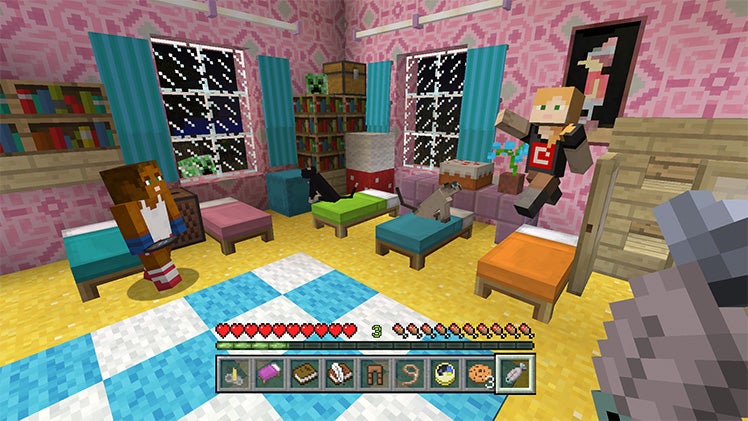 PlayStation's decision to opt its players out of Minecraft (and Rocket League) cross-network play generated a storm of controversy back at E3.
Wes put the issue directly to PlayStation global sales and marketing boss Jim Ryan to get an answer. The upshot? Sony's not keen on cross-play, and it doesn't look like it will change its mind any time soon.
"We've got to be mindful of our responsibility to our install base," Ryan told Eurogamer. "Minecraft - the demographic playing that, you know as well as I do, it's all ages but it's also very young. We have a contract with the people who go online with us, that we look after them and they are within the PlayStation curated universe."
It's a response which raised eyebrows - especially as the family-friendly Nintendo is on board for the cross-network initiative. For now, however, PlayStation players will just get updates separately - although there's no word on whether they will get them at the same time.