Microsoft tests "surprise me" Xbox dashboard button
Are you feeling lucky?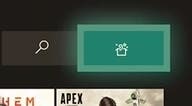 Xbox One owners may spot a new "surprise me" button on their dashboard. Hit it, and your Xbox will suggest a random game from your library to play.
The feature is currently available to those enrolled in Microsoft's Insider testing program. You'll find it within the My Games & Apps section, next to the search and filter options.
The option was first spotted by Reddit user Filthy_Firestarter, who's enrolled in the Alpha Skip-Ahead test pool - one of the first to try new features.
"It won't automatically launch a game," the user said. Instead, "it brings up a popup where you can launch from there". Handy, in case it picks something you forgot to delete and really don't want to play.