Microsoft rewards gamers for their achievements
Albeit not very much.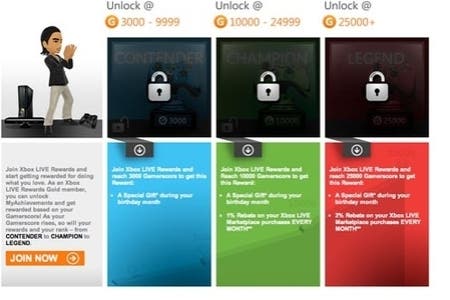 Microsoft has announced a new reward system entitled MyAchievements to give back to more dedicated players who've racked up a high Gamerscore.
Unfortunately, the rewards themselves are minuscule and you have to be an Xbox LIVE Rewards Gold member to receive them.
MyAchievements rewards are separated into three tiers. A Contender Gamerscore of 3000-9999 grants you a "special gift" during your birthday month, but the fine print reveals its approximate value as £0.15 / $0.25. I can't even think of anything that costs that little on Microsoft's service.
Next up is the Champion for scores between 10,000 and 24,999. Champions receive a one per cent rebate on purchases every month in addition to the birthday reward. Finally, Legend encapsulates all those with at least 25,000 point to their name and nets players a two per cent rebate for their monthly purchases.
Okay, so the rewards aren't much, but it's better than nothing. You can sign up for MyAchievments here.