MGS5: Ground Zeroes Easter egg suggests Kojima predicted his fallout with Konami
"You might be able to erase the markings, but the memories will never disappear..."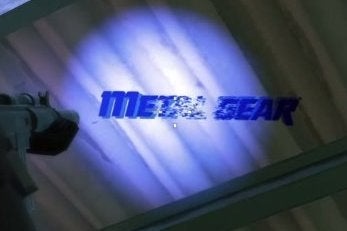 Did Hideo Kojima know that Konami would one day remove his name from the marketing of his directorial efforts all the way back in early 2014?
An Easter egg in Metal Gear Solid 5: Ground Zeroes suggests he may have predicted this fallout with his publisher at least a year and a half ago.
Captured by YouTuber timesplitter88, one of the unlockable trials for Ground Zeroes' Deja Vu mission tasks players with erasing the logos of every Metal Gear game directed by Hideo Kojima. By picking up a special gun you can omit these logos by shining a light upon them.
Upon scrubbing the last one, your intel Kaz will say "You did it. You erased all the markings. But every one of them will always be with you." It's almost eerily knowing about the events that would follow between Kojima and Konami in 2015.
Kaz also stated "You might be able to erase the markings, but the memories will never disappear..."
Hilariously, Kojima ribs the Metal Gear games he didn't direct: "Looks like that's nothing special," Kaz will say over the headset upon trying to vanquish the logo for Metal Gear Ac!d 2.
The one flaw in this theory is you can't erase the Kojima Productions logo on the side of an annex. Looking at it just results in Kaz saying, "What does that mean? There's got to be a reason that's there."
What do you think? Was this just a kooky coincidence, or was Kojima more prophetic than we knew?
Either way, rest assured that Metal Gear Solid 5: The Phantom Pain will likely be the most Hideo Kojima game Hideo Kojima has ever Hideo Kojima'd.