Mass Effect Andromeda players want a mute button for its chatty AI
Play it again SAM, and again, and again.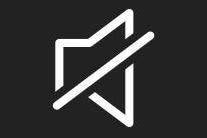 Mass Effect has been defined by its storylines charting the conflict between human and AI. Now, the series has caused one of its own.
Andromeda has already generated its fair share of feedback. But as players push deeper into the game, its talkative AI SAM is becoming fans' real bugbear.
SAM's voice is rarely out of your head - and he frequently pipes up with the same lines of dialogue when exploring Andromeda's open worlds.
Fans have now taken to the Mass Effect reddit to complain, and highlight some of SAM's worst crimes: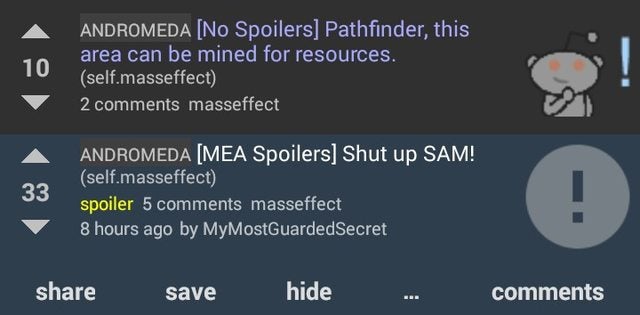 Wander across one of Andromeda's worlds before terraforming its hazards and SAM will warn you repeatedly for entering and then exiting an area of slight cold, heat, or radioactivity. This will happen every time you enter one of these areas, and then every time you leave.
Desert planet Elaaden requires you to shelter in shade periodically to escape the planet's intense heat. Expect SAM to chirp about the temperature every time you step out of the sun, and then step back in.
Ice planet Voeld requires the opposite - that you warm yourself by heat lamps to escape the chill. SAM will likewise commentate here, too.
Worse is when you open your mining radar while driving your Nomad vehicle. Selecting to open the radar sets SAM off, explaining "some areas can be mined for resources" and "you can extract minerals via your mining interface" - the same mining interface you just chose to open.
Not since Navi's infamous "hey, listen!" has a player partner ever been so incessant - although at least Navi did not interrupt and cancel unique squad banter you're never going to hear again. Whenever my party members start talking, I now stop what I'm doing or where I'm driving in order to hear them out, in case SAM interrupts.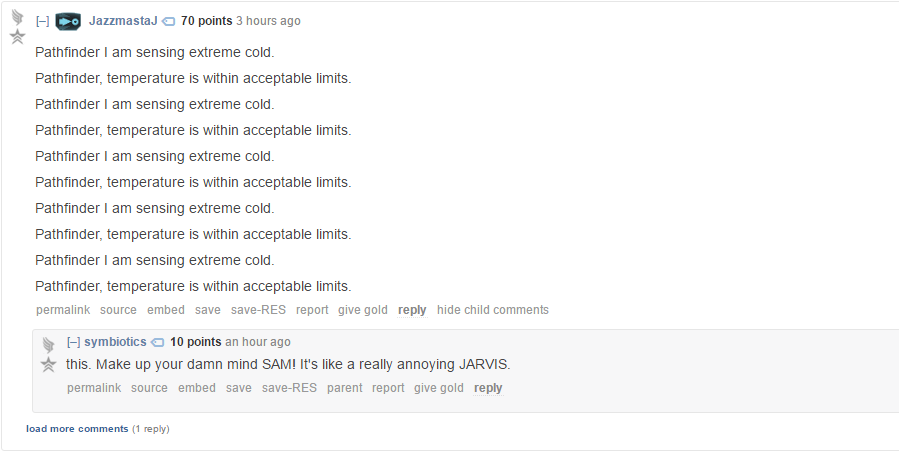 SAM is your Siri, your Wikipedia, your lockpick and a key part of keeping a game full of character options busy with dialogue. He's not all bad - feed him enough memory triggers and he'll cough up some revelatory information about your dad and the Andromeda Initiative.
But there's no telling him to stop, and sadly (as yet) no mute button. All players can hope for is that SAM calms down after the game's next big patch.