Lords of the Fallen loses its 'The', gets very slick technical showcase
Harkyn on.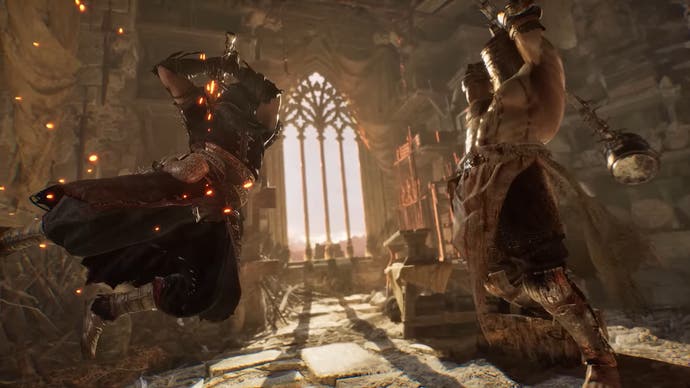 The Lords of the Fallen is now going to be known as Lords of the Fallen, and we just got a fresh look at the upcoming dark fantasy RPG thanks to last night's State of Unreal technical showcase.
As you may have guessed given where this latest footage comes from, Lords of the Fallen will run on Unreal Engine 5. Developer Hexworks explained the goal has "always been to create the most immersive game experience possible", and Unreal Engine 5 will help make this a reality.
And, I have to say, what has been shown so far certainly does look impressive. In the words of Eurogamer's Ed Nightingale: "This is how fans wanted Elden Ring to look".
This Lords of the Fallen showcase demonstrated the game's character creator, something the developer used both 3D scans of "real people" as well as UE5's own character customisation tech to develop.
With all this in tech use, "players can create unique faces and bodies by dynamically morphing between a huge range of shapes before finessing the finer details," the developer explained.
It then went on to show the even finer details players can expect on Lords of the Fallen's release, such as the stitching on a character's tunic, and the gear physics. That cape can certainly flow.
Perhaps most impressively, in Lords of the Fallen players will be able to switch between Axiom, the realm of the living, and Umbral, the realm of the dead. Thanks to a custom toolset within UE5, Hexworks has been able to create both worlds in unison, so they feel connected within the game.
"This means our artists and designers can ensure these worlds feel intrinsically linked, like two sides of the same coin... even if one side is decidedly more horrific than the other," the developer explained.
You can see Hexworks' full presentation in the video above.
Lords of the Fallen is set to release on PC, PlayStation 5 and Xbox Series X/S later this year.