Sony's E3 2012 Conference
David Cage's new game Beyond, live Last of Us stage demo, more.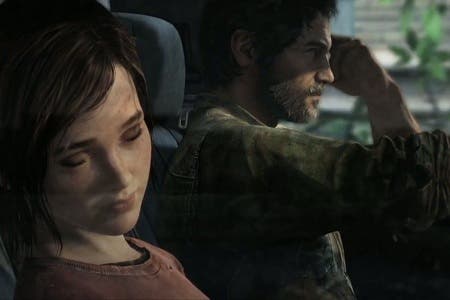 Update: It's all over! At the end of a mammoth first day of E3 week, Sony closed things out with a bunch of mostly expected announcements and some powerful stage demos. Here's the highlights:
- Beyond trailer stars Ellen Page from Heavy Rain
- Quantic Dream's Beyond confirmed, Ellen Page onboard
- The Last of Us gameplay trailer (video)
- God of War Ascension release date announced
- PlayStation Suite renamed PlayStation Mobile
- Sony's London studio working with JK Rowling on Wonderbook
- Assassin's Creed 3 getting PS3-exclusive DLC
- PSone Classics coming to PS Vita this summer
- PlayStation All Stars Battle Royale trailer
- Call of Duty: Black Ops Declassified confirmed for Vita
- Cross-controller DLC coming for LittleBigPlanet 2
- PlayStation Move steering wheel uncovered
Original story: Join us from 2am UK time on the morning of Tuesday 5th June for live coverage of Sony's annual E3 press conference.
Sony's heading back to the Los Angeles Memorial Sports Arena, scene of last year's conference, for a couple of hours (or more, knowing them) of graphs, games and banter.
Fresh (or thereabouts) from a day covering Microsoft's conference and several others, Eurogamer's Robert Purchese will be offering live updates throughout Sony's event. Tom Bramwell and others may also chip in with updates.
What can we expect from Sony? Well, there's the rumoured Gaikai tie-up, which could come to light, plus stage demos of games like God of War Ascension, The Last of Us and - maybe - Quantic Dream's new game. We sincerely hope so.
There will undoubtedly be some movement on the PS Vita front, too, which is good news for those of you running out of things to do with it.
Join us and find out what all those plans are. Who knows, you may even get a sniff of the next-generation PlayStation 4. It seems only fair if we have to stay up that late.
Our live coverage of this event has finished.
The US team is still motoring around LA, bouncing between Microsoft, EA and Ubisoft conferences, which all take place before Sony's. Once we do kick off at 2am UK time, you can hopefully watch a video feed (courtesy of YouTube) while keeping up with Bertie's on-site live text commentary.
If you don't see the YouTube video window, refresh your browser and it should appear.
Hello readers! We're here at the Memorial Sports Arena to watch Sony's E3 press conference. Sony's having a mini-festival outside, with tents, bars, food kiosks and a DJ. It makes a change from queuing round the block for a stuffy theatre.
On stage here is a team of Sony people playing various known Sony games - Uncharted 3 et al. The lights are blue, the auditorium is filling up.
Thanks for staying up with us, Eurogamer readers. This promises to be an exciting conference. There are plenty of rumours swimming around about Gaikai and about David Cage's new game. Can't imagine it will be any more stale than Microsoft's conference this morning.
So, so far today we've had Usher gyrating on stage, and at Ubisoft's conference we had Flo Rida with a dance troop of girls. Who will Sony wheel out? Oli thinks Florence and the Machine. He thinks Sony will be classy.
Will Kaz Hirai, newly crowned king of Sony Corporation, make an appearance? Will he and Jack Tretton trade fashion quips like last year. Who will be wearing salmon pink? Who will be wearing wilted rose? Spring blossom?
Oli Welsh bumped into Mark Rein earlier at our hotel. He said it was Unreal. No, err.
The announcer announces, appropriately enough, that we'll be kicking off in five minutes. That's five Sony minutes, so probaby 10.
Fred Dutton spotted ex-Capcom man Keiji Inafune on his way in. He's making a Vita game called Soul Sacrifice now.
The robot lady is mumbling. The auditorium is filling. We're ever so close to the off.
chessboxer: I predict more dubstep
A solid vision!
The lights are dimming. The crowd are cheering. Here we go.
Dubsteeeeeeep! Straight in with the griiiiiiime!
10 seconds to dubstep. A new E3 conference record.
We're watching a PlayStation showreel. We're seeing games, PSN stuff, PSN Plus, Vita. It's setting the tone - we've seen it all before.
More and more frantic - the music's thumping!
And now, over to Jack Tretton, Sony US boss. He looks a bit like William Shatner.
We have the most passionate consumers in the world, he says. The crowd, those passionate consumers, are cheering. "This is the Superbowl" of gaming, he says. He thinks we're going to judge him, Sony, on this performance. Us?
Cringe alert. Jack Tretton is thanking you, the consumers, for being the real inspiration.
He's picking out someone in the audience. Who is it who is it. It's Kaz Hirai!
I'm sure I bought a used Subaru Legacy off Jack Tretton once.
"I love you man." Tretton's entertaining.
He's showing us a completely new IP. It's Quantic Dream's new game. The crowd are Beyond excited.
David Cage is emotionally striding on stage. He's going to announce his new game and it's called... Beyond. What a surprise!
He's talking about the Jody character that Beyond follows through 15 years of her life. For the first time in a video game we'll live the life of a character, Cage tells us.
The name of the actress playing Jody Holmes is... Ellen Page, her from Juno.
She's got lots of silver spots! Oh no, it's motion capture balls. You could say she's got a lot of balls. We're going to see a trailer. Holmes/Page in a chair at a US police station.
The Holmes is sitting, not giving the officer anything. But weird things are happening. Who is she? Why has she got short hair? Why is there a scar on her head. Oh no! A smashed coffee cup - who will clear that up etc.? The office must be angry because he's leaving the room.
A SWAT team arrives. They're after Holmes! They surround the office she's sitting in, ready to make their move. The music stirrs, building. Tension. The officer opens the door.
Now we're seeing a montage of action from the game. A helicopter bursts into flame as it crashes. They're all chasing Holmes. She's threatening to kill everyone. Does she have super powers? Who's she talking to?
If you make the right decisions in the game, maybe you will discover what lies beyond, teases Cage. And he's off. That's Beyond: Two Souls.
Tretton is back on and tells us that the PS3, six years old now, continues to "shatter" expectations. Only on PS3 will you see HD graphics, apparently!
I saw Beyond and spoke to David Cage about it yesterday; check the site at 4am for my report. Directing Ellen Page is "like driving a Ferrari", apparently. I love David Cage.
He's talking about the Michael character in that Sony video that went viral and was really rather good. We're on to PlayStation All Stars: Battle Royale. All Sony's pin-ups batter each other in this Smash Bros.-inspired title.
It looks like we're going to have an on-stage demonstration of the game. A team of gamers, all wearing brightly coloured t-shirts, has walked on stage. They're lit with steam and yellow lighting. They could be in a pop video.
PlayStation All Stars will be available on PlayStation Vita and will have cross-platform play. We're about to see this in action.
The characters fight in their signature styles, and they're building 'super' bars. It's no Ellen Page.
Sweet Tooth's level three super makes him massive and dishes out the damage. It's smooth, solid, well made.
Nathan Drake and Big Daddy from BioShock playable in PlayStation All Stars, it looks like.
Tretton's telling us you can transfer saves from PS3 to Vita in PlayStation All Stars. You can take your game on the go, in other words. Later this year there will be cross-controller DLC for LittleBigPlanet 2.
The new DLC will offer a new story mode, new stickers and costumes, Tretton says.
The industry's best online destination is PlayStation Network, Tretton tells us. 80 per cent of PS3s and Vitas are online. There are 1500 downloadable titles.
He's talking about Vita being a hub for indie games. He's wheeling out Journey, which really is very good. Unfinished Swan. There will be more than 200 groundbreaking games coming to PSN in the coming months, he says.
Now we're onto PlayStation Plus. There have been 60 free PS3 games since it launched, plus all sorts of extras. Now we're hearing about how there will be lots of new PS3 games. 12 in the US this month. Infamous 2. LBP2. Saints Row 2.
Available from tomorrow, with new games rotating in all the time. It's an instant game collection for $5 a month, he croons.
Everyone in the audience is going to get a voucher for one year's PlayStation Plus membership. The crowd goes bananas - anyone would think they had just announced a next-gen console.
He's announcing PS1 Classics for Vita. Yeah! All right! Old games! Tomb Raider, Final Fantasy 7.
He's bigging up Vita and how there have been more than 40 games released so far. All kinds of games, that is.
Uh oh. It's the dreaded PS3 as an entertainment hub talk. Let's hope he doesn't dwell on it like Microsoft did.
YouTube is coming to Vita, and Hulu Plus and Crackle are also coming to Vita soon, presumably in the US.
Tretton just paid tribute to Activision and announced Call of Duty Black Ops Declassified for PS Vita.
Now we're seeing a video showing off the new Assassin's Creed game for Vita, starring a new female character. Assassin's Creed III: Liberation. October 2012, same as the main game.
Liberaiton is "the complete AC open-world experience on Vita", featuring touch controls, and crossover content between AC3 on PS3 and the Vita version. Connor's tomahawk, upgraded ammunition pouches and some other bits and bobs unlock when you have both.
There's also going to be a Vita Assassin's Creed bundle with a Crystal White Vita and a 4GB memory card.
Assassin's Creed 3 is "coming to PlayStation 3 in full force", Tretton says. Obviously we saw a bit of this earlier at Ubisoft's conference, but we're getting another look now with creative director Alex Hutchinson and an associate producer.
Phillippe Ducharme is the associate producer. They're going to show us how the American Revolution wasn't just fought on land... but at sea, too.
The gameplay footage opens on a tall ship and a chap looking through an eyeglass at the coastline. Apparently there's a dynamic weather system. The ship starts cutting through the glassy water hugging the coast line.
As Connor, you're the captain of the vessel and have full control of navigation and cannons, says Hutchinson. Ooh, there's another ship coming out of a nearby bay. FIIIIRE.
It's launching broadsides at Connor's boat. Ooh, there are two of them. Lots of exchanges of cannonfire. Connor's ship takes out one of its enemies. The weather's changing; looks like they're heading into a storm and giant ocean swells.
It's getting darker and darker as ships close in on all sides. The music's swelling with the ocean.
The rain and spray is lashing the ship and the decks are slick. Lightning cracks and cannons flare, casting all sorts of sexy shadows. Everyone's shouting. It's a bit like being in the Microsoft conference, actually.
RIGGING. I forgot to mention rigging. There is some.
And I'm back after a laptop substitution. The Assassin's Creed 3 sea battle looked fantastic on the big screen. Very atmospheric. The crowd rightly cheers.
Connor brings his ship alongside another one and the action switches to a brief in-engine cut-scenes of swords being distributed and stuff. Then Connor leaps through the air with his tomahawk drawn and the trailer ends.
Assassin's Creed 3 will launch day one with a new PS3 hardware bundle. There will be exclusive DLC, apparently. I hope there are some pre-order bonuses, too - a different one for every shop.
The Ubisoft partnerships continue. Now we're seeing Far Cry 3, which looked very bloody and brutal at Ubisoft's conference earlier. For the first time in franchise history, Far Cry 3 will have four-player co-op!
We're seeing this demonstrated on screen. Stabbing, shooting, flame throwering. It's coordinated slaughter. I hope they have insect repellent on.
They're chatting away to each other like an amateur SWAT team. One player falls, and a Revive icon hovers above him. He's up. Another throat stab.
They're escorting a molotov guy, probably carrying some explosive bits and bobs. And yes, boom, the bridge blows up, as planned. They've done very well, they'll be pleased. Clapping, demo over.
digitalash: No-one talks this professionally in co-op, it's more like 'shitshitshit there's a dude near the little hut thing.'
True that.
There's a map editor in Far Cry 3 as well as single-player, competitive multiplayer and co-op. Sounds like a big game.
You'll get free exclusive DLC for Far Cry 3 on PS3, says Tretton.
Ah hah. PlayStation Move. Why haven't we got a Lightsaber game yet, Jack? Tell us that. TELL US THAT.
And on comes Andrew House, president and group CEO of Sony Computer Entertainment. He's got a high voice.
Sony's been hard at work on a new experience that, he thinks you'll agree, is truly innovative. Uh oh, he said families.
This could be magical like Harry Potter.
There's a boy on screen talking about a book coming to life. An EyePet-like platform that comes to life? It's called Wonderbook.
Wonderbook puts a physical book in your hands, says House. The Eye augments your reality, as with EyePet. Traditional learning experiences can be augmented. Sony's working with some of the world's best authors to bring these experiences to life. Moonbot Studios is making something for Wonderbook. Their new IP is called Diggs Nightcrawler, a noire detective affair.
Oh, Sony's been working with a very popular author. It's JK Rowling! What a surprise! Her book, Book of Spells, will be the first title for Wonderbook. It's also the first product in a partnership with Pottermore, the online Potter network thing.
In Book of Spells you can use Move to cast spells and learn about them. It's like being at Hogwarts, says House. We're seeing a trailer. Very Potter-esque music is tinkling along.
Welcome to the reinvention of the storybook, the man on stage tells us. I didn't catch his name. Open the book of spells to read new writing from JK Rowling. Oh, the book has a conundrum, a set of poems that unlock at the end of each chapter. We're seeing it in action now. The Move controller is a wand, and by waving it over the book, magical things happen.
(For Bertie's benefit, the man on the stage is Dave Ranyard, who used to be game director on SingStar after Paulina Bozek left. Lovely man, Ranyard!)
Let's take a look at this dragon in the bottom corner. Yes, lets. Oh, there's a warning on the page from a fellow Hogwarts student. Let's see why. Is it because dragons aren't friendly I wonder. The dragon is moving on the page. It's very painterly. The book has been charred. The man demonstrating is rubbing the page clean.
Every wizard needs a wand. And every cowboy sings a sad, sad song.
Now the book has become a puppet show. There are lots of stories that draw from the world of Harry Potter. If this is exclusive writing by JK Rowling, this game could be a massive, massive deal for Sony.
Even though it looks a bit dreary. Something's gone wrong, it's not responding. Ranyard makes a joke about it being a live demo. Finally the lady opens the door. Clapping. I wonder if children playing this game will have the same patience.
You're losing us, Ranyard - we get the idea.
Even Ranyard looks a bit nonplussed, hands in pocket. This is very drawn out.
He's still going! I wonder if this long announcement was a condition of the deal with Rowling.
Andrew House is back on stage. A testimonial from JK Rowling is on screen. There are no elipses in it!
Wonderbook: Book of Spells is due out "fall 2012" according to the card at the end of the demo.
The PlayStation experience is coming to Android phones and tablets, House says, via PlayStation Suite. In April, Suite was opened in beta to the development community. Look out for PlayStation Certified devices to play all of this on. He's announcing that HTC will be the first non-Sony partner "with which we'll share our expertise".
PlayStation Suite is going to be renamed. But WHY? Oh, it's PlayStation Mobile now. That's much more evocative and sexy.
One more thing. PlayStation is thinking of the future. Is this the Gaikai announcement?
Oh, he's off. Jack Tretton's back. Here's God of War: Ascension.
Blood! Yes! Kratos is facing off against some horned creatures that look a bit like walking goats. Slash, slash, splat, splat - Kratos is getting the best of them. He yanks off a head by the horns. He swings another, holding the beast by its hooves.
Kratos' twin blades are whirling around, he's juggling a bigger creature, pasting it now. But it's resilient, a mini-boss. And now the QTE execution.
Uh oh, what's that in the sea? Could it be a Kraken? Kratos is using some green magic to rebuild a platform. Err? That's odd magic.
More glorious violence. Kratos is now battling the Kraken creature in QTE fashion. Oh, here comes a big foe with a burning helmet on. It's got a massive, glowing hammer. Bash bash bash. Press square. Execution.
Up and up Kratos climbs. Ha! Here's the elephant man! He's very beefy and Kratos is having to get even angrier to fight him. Another mini-boss showdown.
Kratos inevitably gets the better of the elephant man and stabs it repeatedly in the back of the skull and then pulls its brain out. Charming! Now, the Kraken thingy. Kratos dives off the platform, heading for the submerged creature's face. And the demo's over. Release date: 12th March 2013.
Another trailer. But the screen is blank. Animal noises. Tokyo Jungle? No, The Last of Us, Naughty Dog's next.
Is that Ellen Page? Oh no, wait, she looks completely different.
The two Last of Us protagonists, man and girl, are exploring the jungle-fied city. The Naughty Dog style is very apparent. The Uncharted climbing and presentation style shine through.
The bloke's pottering run is very Nathan Drake.
The hud even looks like Uncharted's. The animation is very similar, as Tom pointed out.
An enemy is slowly suffocated. Adult language! There's a melee section - this man can fight like Drake. He takes the man as a human shield and the enemy is asking him to take it easy. He doesn't, and brutally smashes him in the head. The enemies are talking all the time. The girl butts in, then the man slams him into the wall. It's very graphic.
More fighting. And we end with a very graphic look at a man being shot in the face with a shotgun. The crowd here are very pleased with the violence on show.
At one point the bloke was scavenging, picking up objects, and it looked like he put together a Molotov cocktail with inventory objects. Then he set fire to someone with it. Swoosh.
The mix of melee combat, items and cover shooting looks like a different blend to Uncharted. The crowd certainly appreciated it.
Tretton makes a joke about the game looking "mind blowing". He's winding down now, wrapping up. He wants us to keep pushing Sony. OK, Jack. "The best is yet to come," he says, and turns and walks away.
And with that we're off. Thank you very much for joining us tonight, Eurogamer readers!
Yep, thanks everyone! We'll be back live tomorrow (wait, today!) at 5pm UK time for Nintendo's conference.