Kingdom Hearts 3D European release date leaks
Out in July.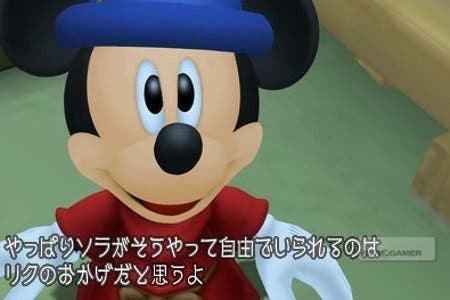 The Kingdom Hearts 3DS European release date has been leaked.
GimmeGimmeGames noticed Square-Enix's French store listed the 3DS title for release on Friday, 27th July 2012, before the date was changed to a vague "summer 2012". Whoops!
Kingdom Hearts 3D (Dream Drop Distance) is the next instalment in the Square Enix / Disney crossover role-playing series.
"With the tenth anniversary of the series on the horizon, the current Kingdom Hearts saga is approaching its climactic conclusion," director Tetsuya Nomura said late last year.
"The story of this game will serve as the opening chapter of the final conflict, and, as always, will be full of surprises.
"In order to best implement this element of surprise and discover new realms of possibility, we have chosen Nintendo 3DS as our platform. With its revolutionary new game system, this title will not only be a bold, exhilarating tale of adventure, but also a first look into the future form of the Kingdom Hearts series."
Dream Drop Distance sees King Mickey and Yen Sid prepare for a mystery threat by putting Sora and Riku through the Mark of Mastery exam. The dual protagonists, as Square Enix calls them, are sent into the Sleeping Worlds to complete tasks. You play both characters in the game.
In the Sleeping Worlds you encounter Dream Eaters, new creatures for the series. These are split into two categories: Spirits and Nightmares. You can recruit over 50 different types of Spirits as allies.
From Disney we see La Cité des Cloches, a world based on The Hunchback of Notre Dame.
The game launches in Japan on 29th March.