Japan chart: 3DS sales spike thanks to new Kingdom Hearts
While Silent Hill HD Collection, Little King's Story Vita tank.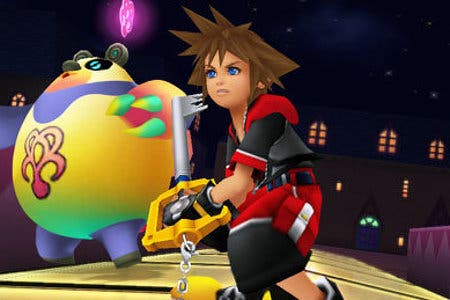 3DS sales saw a significant jump in Japan last week thanks largely to the release of a new entry in Square Enix's Kingdom Hearts action RPG series.
Nintendo's portable sold 121,921 units, compared to 94,011 last week.
It continues to totally dominate the Japanese hardware market - its nearest rival was PlayStation 3 with 23,771 sales. The Vita continues to slum it, but saw a small bump to 12,105, up from 10,302.
Here's the full chart, as seen on Andriasang:
3DS: 121,921 (Last week: 94,011)
PlayStation 3: 23,771 (25,750)
PSP: 18,356 (19,875)
Vita: 12,105 (10,302)
Wii: 9292 (9270)
PlayStation 2: 1374 (1333)
Xbox 360: 1317 (1084)
DSi XL: 941 (1058)
DSi: 771 (778)
The aforementioned Kingdom Hearts 3D: Dream Drop Distance was the best-selling game of the week, moving 213,579 copies. Square will no doubt be happy to take the top spot, but first week sales were well down on 2010 PSP title Kingdom Hearts: Birth By Sleep, which managed 445,962 in the same timeframe.
Elsewhere on the chart, Konami's Pro Baseball Spirits 2012 debuted in second on PS3 and third on PSP. The Vita version entered at 11.
Silent Hill HD Collection doesn't seem to have been met with much enthusiasm - it stumbled in at 15, selling just 7971 copies. Maybe it was those missing fog textures?
The Vita follow-up to well-reviewed Wii action RTS Little King's Story fared even worse. It debuted at 19, with 7141 sales.
The full top 20 lined up as follows:
Kingdom Hearts 3D: Dream Drop Distance (Square Enix, 3DS): 213,579 - NEW
Pro Baseball Spirits 2012 (Konami, PS3): 90,433 - NEW
Pro Baseball Spirits 2012 (Konami, PSP): 60,141 - NEW
Kid Icarus Uprising (Nintendo, 3DS): 47,179 (Life to date: 179,705)
Pokémon + Nobunaga's Ambition (The Pokémon Company, DS): 30,535 (267,608)
Yakuza: Black Panther 2 (Sega, PSP): 26,655 (131,592)
Super Mario 3D Land (Nintendo, 3DS): 24,936 (1,464,696)
Monster Hunter 3G (Capcom, 3DS): 21,288 (1,358,410)
Mario Kart 7 (Nintendo, 3DS): 19,653 (1,621,631)
Idolmaster Anime & G4U! Pack Vol.6 (Namco Bandai, PSP): 17,759 - NEW
Pro Baseball Spirits 2012 (Konami, Vita): 17,264 - NEW
Mario & Sonic at the London Olympics (Nintendo, 3DS): 12,947 (112,603)
Devil May Cry HD Collection (Capcom, PS3): 11,926 (55,717)
Hatsune Miku and Future Stars: Project Mirai (Sega, 3DS): 8267 (124,618)
Silent Hill HD Edition (Konami, PS3): 7971 - NEW
One Piece Pirate Musou (Namco Bandai, PS3): 7851 (804,601)
Harvest Moon: Land of Origin (Marvelous AQL, 3DS): 7657 (154,764)
Shining Blade (Sega, PSP): 7535 (148,824)
New Little King's Story (Konami, Vita): 7141 - NEW
Wii Sports Resort Wiimote Plus Pack (Nintendo, Wii): 6596 (905,638)