Japan chart: Final Fantasy Type-0, Kirby on top
3DS rules hardware, but has no games in top 20.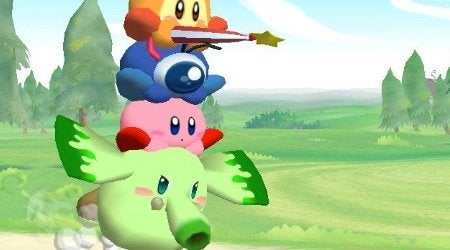 PSP action RPG spin-off Final Fantasy Type-0 tops this week's Japanese software chart, shifting nearly half a million copies.
According to Andriasang, Square Enix's latest sold 472,253 copies in its debut week, out-pacing new Wii release Kirby's Adventure at two.
Here's the full top 20:
Final Fantasy Type-0 (Square Enix, PSP): 472,253 - NEW
Kirby's Adventure (Nintendo, Wii): 136,811 - NEW
Idolmaster 2 (Namco Bandai, PS3): 65,512 - NEW
Just Dance Wii (Nintendo, Wii): 27,832 (Life to date: 163,451)
Go Vacation (Namco Bandai, Wii): 25,259 (72,468)
Disgaea 4 Fuka & Desco-hen Hajimemashita (Nippon Ichi, PS3): 19,460 - NEW
Ro-Kyu-Bu (Kadokawa Games, PSP): 17,593 - NEW
Macross F Sayonara no Tsubasa Hybrid Pack (Namco Bandai, PS3): 16,741 (159,348)
Terror of the Stratus (Konami, PSP): 15,623 - NEW
Ragnarok Hikari to Yami no (GungHo, PSP): 15,559 - NEW
Dead Island (Spike, PS3): 14,260 (54,205)
PES 2012 (Konami, PS3): 13,796 (370,521)
AKB1/48 If I Loved an Idol in Guam (Namco Bandai, PSP): 13,480 (301,743)
Wii Sports Resort (Nintendo, Wii): 12,377 (625,522)
Naruto Narutimate Impact (Namco Bandai, PSP): 12,082 (65,230)
Rhythm Heaven Fever (Nintendo, Wii): 9251 (526,943)
FIFA 12 (Electronic Arts, PS3): 8255 (33,894)
La Storia Della Arcana Famiglia (Comfort, PSP): 7890 - NEW
Ace Combat Assault Horizon (Namco Bandai, PS3): 7222 (174,813)
Kirby Mass Attack (Nintendo, DS): 6373 (272,043)
Meanwhile, the 3DS continues to dominate hardware sales, despite not having a single game in the software chart. That should all change next week with the arrival of Super Mario 3D Land and Dragon Quest Heroes: Rocket Slime 3.
Nintendo's handheld sold 65,041 compared to 73,933 last week - that's more than double the PSP managed down in second place.
3DS: 65,041 (Last week: 73,933)
PSP: 30,605 (22,095)
PlayStation 3: 25,217 (23,897)
Wii: 11,784 (11,235)
DSi XL: 2009 (2005)
Xbox 360: 1704 (1620)
PlayStation 2: 1228 (1296)
DSi: 1061 (1293)
DS Lite: 55 (36)