Japan chart: top 10 debuts for Dead Island, FIFA
While 3DS sales continue to soar.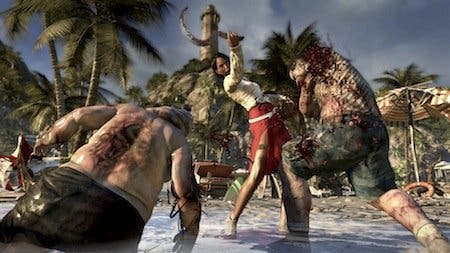 The PlayStation 3 version of zombie FPS Dead Island debuts at number five on this week's Japanese sales chart.
As reported by Andriasang, it shifted 39,945 copies on PS3, while the Xbox 360 version shuffled in at 10, with 13,147 sales.
Mech anime crossover Macross F Sayonara no Tsubasa topped the chart, with FIFA also seeing a top 10 debut down at seven. It seems PES, which entered at number one a few weeks back, retains its vice-like grip on Japanese footie fans, despite FIFA's recent domination of the Western market.
Elsewhere, Deus Ex: Human Revolution failed to make much of a mark, entering the chart at 13.
Here's the full top 20:
Macross F Sayonara no Tsubasa (Namco Bandai, PS3): 142,607 - NEW
Naruto Narutimate Impact (Namco Bandai, PSP): 53,148 - NEW
Go Vacation (Namco Bandai, Wii): 47,209 - NEW
Just Dance (Nintendo, Wii): 45,580 (Life to date: 135,619)
Dead Island (Spike, PS3): 39,945 - NEW
FIFA 12 (Electronic Arts, PS3): 25,640 - NEW
PES 2012 (Konami, PS3): 22,902 (356,724)
Ace Combat Assault Horizon (Namco Bandai, PS3): 18,120 (167,591)
AKB1/48 If I Loved an Idol in Guam (Namco Bandai, PSP): 17,562 (288,263)
Dead Island (Spike, Xbox 360): 13,147 - NEW
Rhythm Heaven Wii (Nintendo, Wii): 12,377 (517,691)
Wii Sports Resort Wiimote Plus Pack (Nintendo, Wii): 12,334 (613,144)
Deus Ex: Human Revolution (Square Enix, PS3): 8707 - NEW
NBA2K12 (Take-2 Japan, PS3): 8701 - NEW
Dragon Quest Collection (Square Enix, Wii): 8354 (371,151)
Nintendogs + Cats (Nintendo, 3DS): 7980 (332,292)
Kirby Mass Attack (Nintendo, DS): 7309 (265,670)
Zelda: Ocarina of Time 3D (Nintendo, 3DS): 7133 (422,495)
Tetris: Axis (Namco Bandai, 3DS): 6787 - NEW
Monster Hunter Portable 3rd PSP the Best (Capcom, PSP): 6685 (49,209)
Over on the hardware chart there was good news for gloomy Nintendo investors. The 3DS had another great week, with sales climbing from 55,025 last week to 73,933.
The cause for the bump? As you can tell from the games chart, it certainly wasn't an influx of compelling new software. Looks like the new pink hardware model did the business.
Further down the hardware chart, it was business as usual, with PSP, PlayStation 3 and Wii sales all continuing their recent slump.
Here are the numbers:
3DS: 73,933 (Last week: 55,025)
PlayStation 3: 23,897 (28,596)
PSP: 22,095 (25,271)
Wii: 11,235 (12,161)
DSi XL: 2005 (2721)
Xbox 360: 1620 (1887)
PlayStation 2: 1296 (1280)
DSi: 1293 (1999)
DS Lite: 36 (71)