It's been a great year for Witcher 3 dev CD Projekt. Now what?
Witcher expansion! Cyberpunk 2077! And... virtual reality?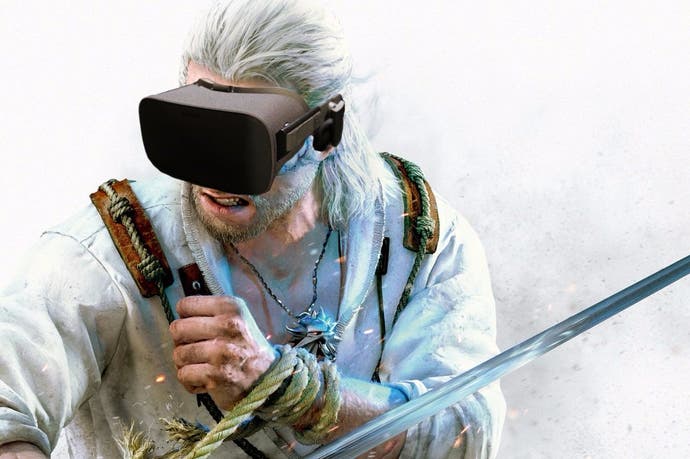 It's been a brilliant financial year for CD Projekt, crowned by the release of The Witcher 3, a critical and commercial success that has propelled the Polish company to sales and revenue an order of magnitude higher than anything it's enjoyed before.
Combined Witcher game sales - of all three games - are now more than 20 million units, according to a newly published annual report.
There are no specific numbers for The Witcher 3. The last specific count we had was in August 2015, when CDPR announced more than 6m sales of Witcher 3 in six weeks. And the last combined Witcher 1 & 2 sales figure was 8m in September 2014 (thanks GRYOnline.pl).
In a conference following the financial results, CD Projekt Red said that Witcher 3 sales accounted for almost half of the 20m total, according to Wirtualnemedia.pl. If and when those sales break 10m I expect we'll hear separately about it - it's quite a milestone after all.
CD Projekt Red's next major game is of course Cyberpunk 2077, and the report says it won't come before 2017. A follow-up Q&A also said Cyberpunk will not be at E3, Eurogamer Poland told me. Between 2017 and 2021 there will also be another triple-A role-playing game released by the studio, although it doesn't say what this will be. It could be a second Cyberpunk game, it could be another Witcher game (although after 10 years of making only Witcher games, CDPR may not rush back to the series), or it could be something completely different.
Tying into this is a "near-twofold expansion of the CD Projekt Red team", which, at Witcher 3 launch in May last year, numbered around 250 people. The expansion will propel CDPR, it hopes, "To be counted among the world's top three video game developers." Presumably it would put it among the company of Bethesda Game Studios, Blizzard, Riot and Valve.
Should the studio expand as planned there will be four teams making games, and the general thinking around November time last year was two big teams, two smaller teams. CD Projekt Red also has a second office in Krakow currently helping on the bigger projects, but in the future the plan is for that studio to take a whole game by itself.
On the topic of studio expansion I talked to CD Projekt co-founder Marcin Iwinski in May 2015, and he said, "It's my personal horror to become a faceless behemoth of game development or publishing or whatnot. As long as I am here I will be fighting for this not to happen."
Iwinski also teased another project in addition to Cyberpunk and Witcher that was in the works. "A significant part [of the studio] will go onto Cyberpunk and then maybe you know we are doing something else as well," he said with a grin, "which I cannot talk about."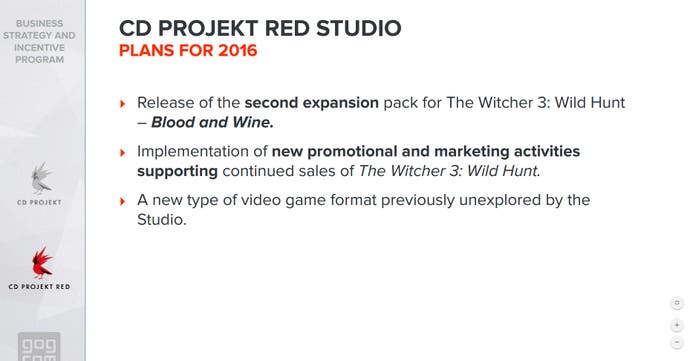 Officially, for 2016, CD Projekt Red has the big second expansion for The Witcher 3, called Blood & Wine, which will be released during the first half of the year, maybe around the May anniversary of the mother game's release. There's no specific date yet.
Beyond that, CD Projekt Red is also exploring a new kind of game. Under "Plans for 2016" the annual report lists: "A new type of video game format previously unexplored by the studio." I asked CD Projekt Red for more information about this but it was unable to be given any. So what is it?
Eurogamer Poland informed me that in the Polish version of the report the line doesn't stipulate "video game" - it just says "game". But CD Projekt Red it is not the the pen-and-paper role-playing game collaboration it announced last year.
CD Projekt Red has already has already had a stab at a mobile game in The Witcher Battle Arena MOBA, and has already collaborated on a physical and digital board game, so both of those avenues have been previously explored. Virtual reality? That was my best guess, but in a Q&A following the report, CD Projekt board member Piotr Nielubowicz directly answered "no" to someone asking whether the new game will be VR, Eurogamer Poland told me.
Marcin Kicinski, another board member, added that CDPR is only interested in VR if it can add something substantial to a gaming experience, and is currently waiting for the technology to develop. It have dev kits, though, and is going to GDC to check things out, but that's about as involved as it gets for the moment. Kiciński apparently said he's "personally" more interested in HoloLens.
In addition to all this, CD Projekt Red pledged continued support for its existing games.